Stuffed baked zucchini.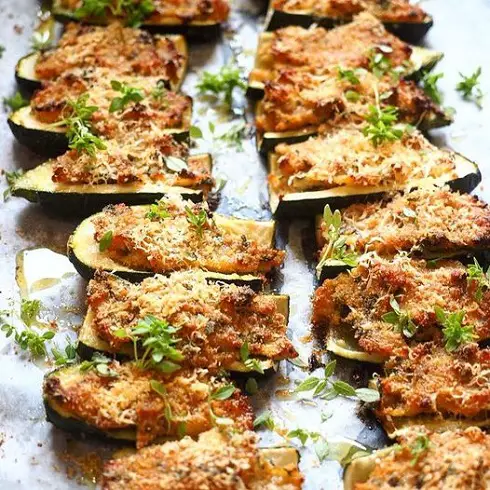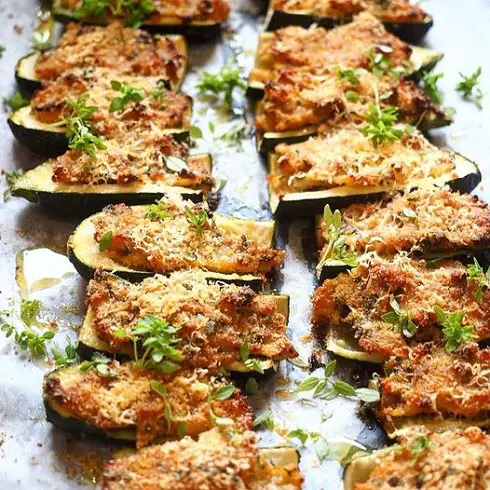 Stuffed baked zucchini.
Ingredients
200 gr fresh breadcrumbs
150 gr grated pecorino or parmigiano
1 clove garlic, finely chopped or minced
4–5 marjoram or thyme leaves leaves
4–5 oregano leaves
1–2 tbsp finely chopped flat-leaf parsley
3 tbsp extra virgin olive oil, plus extra for drizzling
salt flakes and freshly ground black pepper
4 zucchini (courgettes)
Instructions
Preheat your oven to 200°C (180°C fan-forced). Line a baking tray with baking paper.
Mix together the breadcrumbs, cheese, garlic, herbs and olive oil in a large mixing bowl. Season with salt and pepper and set aside.
Cut the zucchini in half lengthways. Using a spoon or a paring knife, scoop out some of the flesh, then fill the zucchini shells with the breadcrumb mixture. Place on the prepared tray, drizzle with a little extra olive oil and bake for 30–35 minutes or until golden brown.
Ps don't discard the zucchini fresh. Stir fry in olive oil, add a few anchovies, chillie and garlic and toss some pasta through it. Yum!