Homemade Cannoli Cream and Cannoil Chips Recipe
Homemade Cannoli Cream and Cannoil Chips Recipe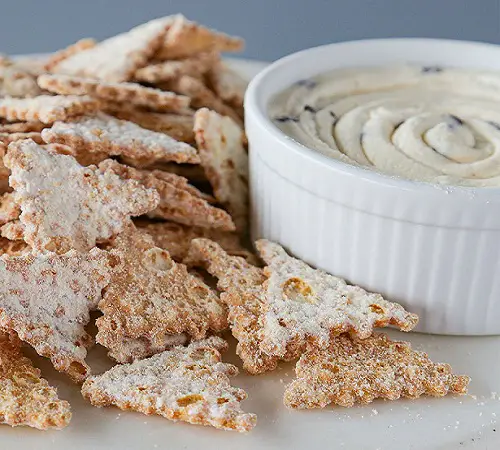 Ingredients
for the cream (see Notes)
1/2 cup heavy cream

2 cups (17.5 oz, 500 g) ricotta, well-drained (see Notes)

1/2 cup powdered/confectioners sugar

1/2 tsp vanilla

1/4 tsp cinnamon

3 oz (84 g) semi-sweet chocolate – chips, chopped, or grated

chopped pistachios and/or grated chocolate, for garnish (optional)
for the chips
2 cups all-purpose flour

1 tbsp sugar

pinch salt

2 tbsp butter, chilled and cut into pieced

1/4 dry white wine

1 egg, slightly beaten

powdered/confectioners sugar, optional
Directions
for the cream (see Notes)
Whip the cream until stiff peaks form. Set aside.

In another bowl, whisk the ricotta until smooth.

Slowly add the sugar while continuing to whisk.

Add the vanilla and cinnamon and whisk until well blended.

Add the chocolate and carefully stir.

Gently fold the whipped cream into the ricotta mixture. Cover and refrigerate for at least 1 hour before serving.

Cannoli cream should be kept refrigerated and used within 2 days.
for the chips (see Notes)
Before beginning, consider buying cannoli shells from the nearest Italian bakery. Once home, break the shells into pieces and serve. No muss, no fuss, and no panful of oil to discard. However, if you must …

Sift together the flour, sugar, and salt.

Add the pieces of butter and combine with the flour using your hands until the mixture resembles gravel.

It's not too late to change your mind and buy some cannoli shells.

Add the egg and mix well.

Add the wine, a teaspoon at a time, and knead to create the dough.

Once a smooth dough is achieved, flatten it, wrap in plastic and refrigerate for no less than 15 minutes.

When chilled, take a section of the dough, and roll until smooth and about the thickness of pasta. (See Notes)

Use a pastry cutter to cut the dough into chip-sized pieces.

Place oil for frying into a frypan to about a depth of 1/2 inch (1.25 cm).

Preheat oil to 360˚ F (180˚ C)

Place several pieces of dough into the hot oil and fry until golden. Flip to cook the other side. The chips should take no more than 3 minutes to completely fry. (See Notes)

Use a slotted spoon to remove the chips and drain on paper towels.

Cooled chips should be stored in an airtight container where they will keep for about one week.

To serve, place on a platter within reach of the cannoli cream, and sprinkle with powdered sugar, if desired
Notes
This is the time to make your own ricotta. It's easy to do and the reward is a cheese that is far superior to any that you might find at your local grocery. Click HERE to see how I make my ricotta.
If you like, citrus zest and/or chopped candied fruit can be added to the cream for Sicilian-style cannoli cream.
For chocolate cannoli cream, add 3 to 4 teaspoons unsweetened cocoa powder to the ricotta in place of, or in addition to, the cinnamon.