Pasta Primaver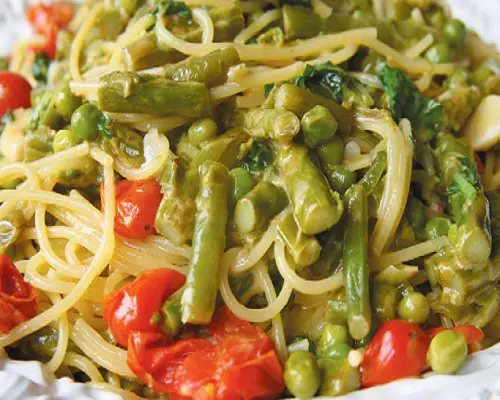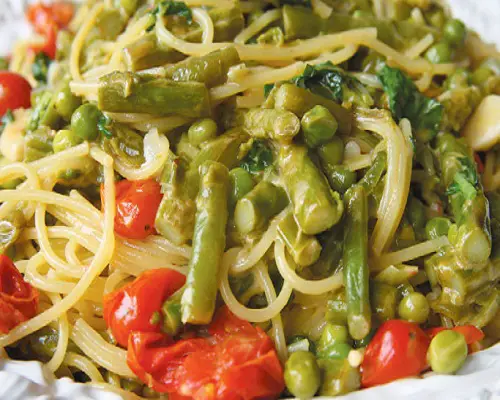 Serves 4
INGREDIENTS

1lb of spaghetti

2 Tbls of extra virgin olive oil

1 Tbls of butter

2 cloves of garlic, chopped

1 medium size zucchini, diced

1 yellow onion, chopped

10 stalks of asparagus, cut into pieces

1/2 cup of broccoli florets

10 string beans

2 carrots, sliced

1/2 cup of peas

15oz can of diced tomatoes

1/4 cup of flat leaf parsley, chopped

1/2 tsp of dried basil

1/2 tsp of dried or oregano

1/4 tsp of dried thyme

1/2 tsp of salt

1 tsp of freshly grated black pepper

1/2 tsp of crushed red pepper flakes

Fresh grated parmesan cheese

 

PREPARATION

Separately blanch the broccoli, string beans, carrots and asparagus until almost tender.

Place the greens in an ice bath to retain color and stop the cooking process.

In a large frying pan sauté the garlic in the butter and olive oil for 2 minutes.

Add the zucchini and onions and cook until tender.

Add the asparagus, broccoli, string beans, carrots and peas and heat through.

Add the diced tomatoes, parsley, basil, oregano, thyme, salt, black pepper and red pepper and simmer for around 5 to 10 minutes.

In a large pot bring 6 quarts of salted water to a boil. Cook the spaghetti for about 8 to 10 minutes until al dente.

Drain the pasta, plate and top with vegetables and Parmesan cheese.