Tagliatelle con speck, funghi e panna
Tagliatelle con speck, funghi e panna
Tagliatelle with speck, mushrooms and cream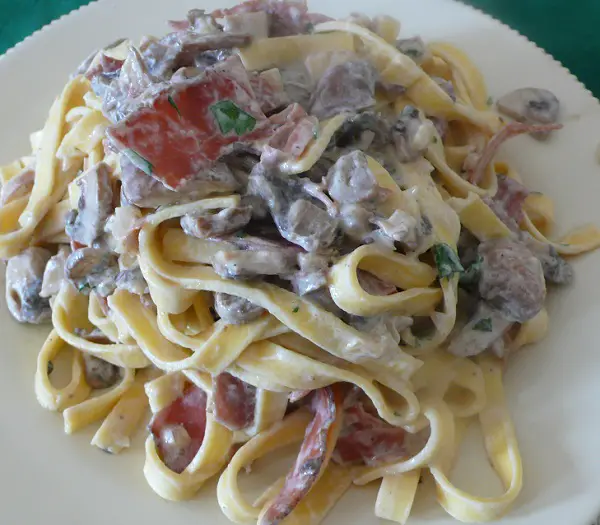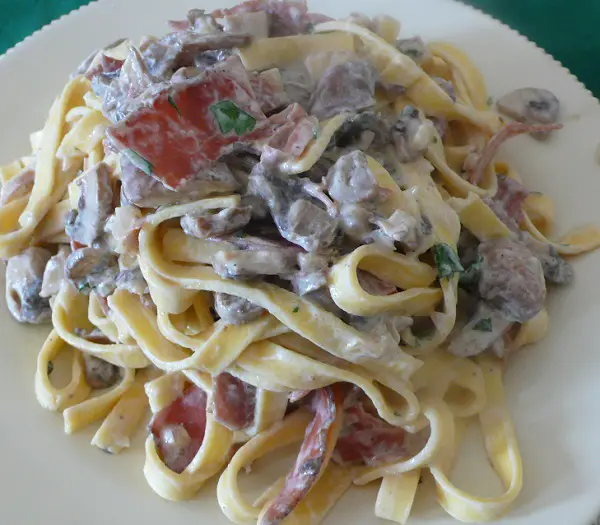 Ingredients
    1 clove garlic

    40 grams butter

    ½ white onion

    400 grams mixed mushrooms, we used cremini

    250 ml heavy whipping cream or crème fraîche

    1 tbsp minced fresh parsley

    100 grams speck

    salt and pepper to taste

    1 lb egg tagliatelle or fettuccine
Directions
Take the slices of speck and cut them into thin strips.

 Clean the mushrooms, if they aren't particularly dirty clean them with the dull end of a knife or a damp kitchen cloth to clean the extra dirt off of the mushrooms, if they are filthy rinse them with cold water and slice.

Slice the onion and mince the garlic, put the onion and the garlic in a pan with the butter and sauté over a low flame, add the speck and cook for about 5 minutes. Add the mushrooms, salt and pepper and cook for 15 minutes, adding the heavy cream after 10 minutes.

In the meantime fill a large pot with water for the pasta. Bring to a boil over high heat.

Once the water starts to boil for the pasta add a small handful of salt to the water and bring to a rolling boil. Add the pasta and cook until it is al dente.

Drain the pasta and toss for a few minutes over a medium flame in the pan with the speck, mushrooms and the heavy cream to blend the flavors.

Toss in the parsley off of the heat and serve immediately.