Tortellini Spinach Salad with Balsamic-Tomato Vinaigrette
Tortellini Spinach Salad with Balsamic-Tomato Vinaigrette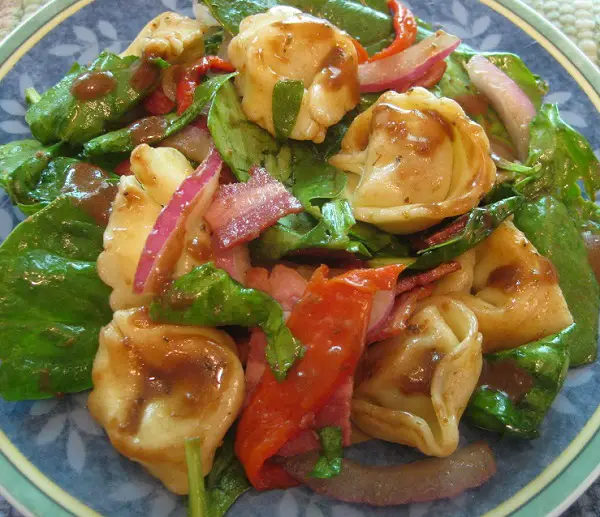 Ingredients:
Salad –
20 oz package three cheese tortellini

6 oz turkey bacon, cut into chunks

6 oz bag baby spinach

1/2 red onion, thinly sliced

3 roasted red peppers, thinly sliced

Dressing –

9 tablespoons balsamic vinegar

3 cloves garlic, minced

1 ½ teaspoons dried oregano

1 ½ tablespoon tomato paste

Salt and pepper to taste (about 1/8 teaspoon each)

3/4 cup olive oil
Directions:
Cook tortellini in boiling water until al dente. Drain and toss with a teaspoon of olive oil to keep from sticking. Let cool in colander.

Cook turkey bacon until crisp. Remove with slotted spoon onto paper towel. Allow to cool.

In a large bowl, toss all the salad ingredients together after the pasta and bacon has cooled.

In a blender add all of the dressing ingredients except for the olive oil and process until smooth. Then, while the blender is running, slowly add the olive oil and blend until completely combined. If serving the salad right away, immediately pour the dressing over the salad and toss well (you may not need all the dressing). Serve.