Tamplun (chestnuts pancakes)
Tamplun (chestnuts pancakes)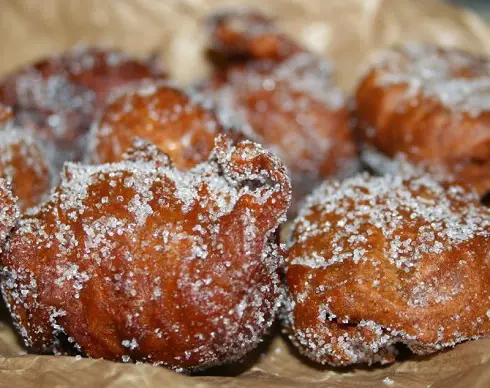 Ingredients :
2 eggs
chestnut flour 800g
1 packet of baking powder
bread (soaked in milk) 100 g
1 tablespoon of anise
juice of 1 lemon
raisins, soaked in water
dried figs, chopped 80g
lard (for frying)
icing sugar (for sprinkling)
salt.
PREPARATION
In a large bowl whisk the eggs then add the chestnut flour, baking powder and bread soaked in milk; sprinkle with anise and lemon juice continuing to work until the mixture is smooth and elastic. Cover with a clean towel and let rise for 1 hour.
After this time, take the dough and pour spoonfuls in a pan where you put to heat the lard. Fry on each side, then drain them and put them to dry on a paper towel. Sprinkle with icing sugar and serve warm.