Thanksgiving Stuffing with Roasted Chestnuts and Spicy Sausage
Thanksgiving Stuffing with Roasted Chestnuts and Spicy Sausage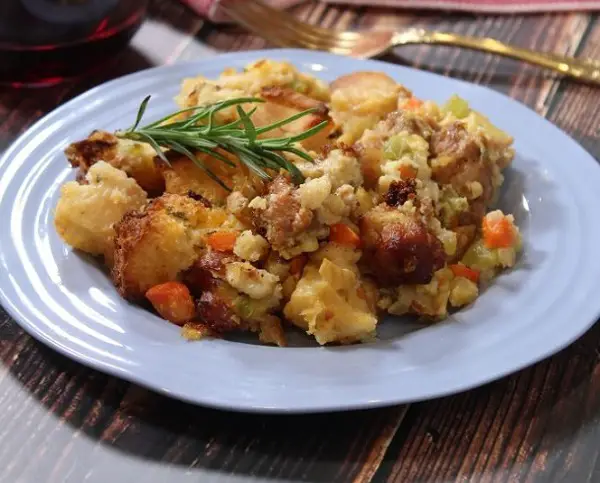 Ingredients
    1 lb Hot Italian Sausage

    1 lb Chestnuts roasted, peeled and diced

    1 Carrot diced

    3 Celery ribs diced

    1 Sweet onion chopped

    3 Sage leaves chopped

    8 oz Ciabatta bread cubed

    2 Eggs

    1 cup Chicken stock

    1 cup Heavy cream

    Sea salt and black pepper to taste

    2 oz Extra virgin olive oil
Instructions
    Preheat your oven to 400°F. To prepare your chestnuts, start off by adding a slit on one side of the shell of each chestnut to keep from exploding while roasting. Place all of the chestnuts on a baking sheet and roast for 20 minutes. Remove from the oven and let cool for about five minutes. Peel the shells off while still warm. If you let it cool down too much the shells will be harder to peel off.

    Add the olive into a frying pan and warm up over a medium/high flame. Add the sausage and cook for about four to five minutes, making sure to stir frequently to cook evenly.

    Add in the onions, celery, and carrots and cook for about 8 to 10 minutes over a medium flame, stirring frequently to keep from burning. Remove from the stove top and let it cool down.

    In a big mixing bowl, scramble the eggs and add in the heavy cream, chicken stock, sage, two pinches of sea salt and black pepper. Mix all together and then add in the bread, chestnuts and mix. Add in the cooled off sausage, carrots, celery and onion mix and fold all of the ingredients together.

    Once all of the ingredients are combined, pour and spread evenly in a deep baking/lasagna dish. Cook in the oven at 400°F for 25 minutes. Cover with aluminum foil for another 10 minutes and remove from the oven. Let it rest for about 10 to 15 minutes before serving. Salute and cin cin!