Chicken Scallopini with Asparagus and Prosciutto
Chicken Scallopini with Asparagus and Prosciutto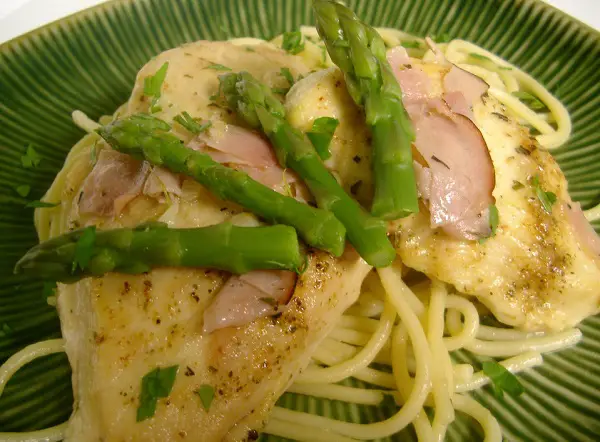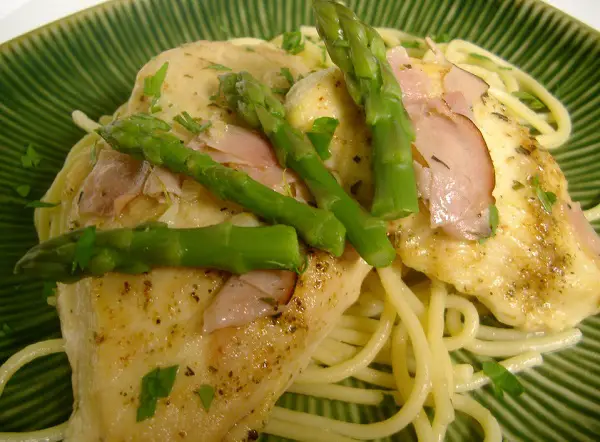 Ingredients
5 chicken breasts, cut into 3 pieces each and pounded to 1/2 inch thickness

Montreal chicken seasoning

Flour

Olive oil

2 shallots, finely chopped

4 cloves garlic, finely chopped

1 teaspoon thyme

1/2 cup white wine

3/4 cup chicken stock

2 tablespoons butter

1 pound asparagus, cut into 1-inch pieces and cooked to tender-crisp

1 cup Prosciutto, cut into small dice

Salt

Pepper

About 1/2 pound of cooked pasta, spaghetti or linguine

Chopped parsley, for garnish
Directions
Sprinkle both sides of the chicken pieces with montreal chicken seasoning and dredge in flour.

Heat a good sized drizzle of olive oil in a large saute pan set on medium high heat.

Saute chicken in one layer and cook until browned on each side, about 2 – 3 minutes. You may need to brown the chicken in 2 batches depending on the size of the pan.

Transfer the chicken to a plate and set aside.

In the same pan, saute the shallots and garlic in a little olive oil for 1 minute or so.

Add the thyme and wine and cook for 2 – 3 minutes.

Add the chicken stock and bring almost to a boil.

Stir in the butter and reduce the sauce for a minute.

 Add the asparagus and Prosciutto and season with salt and pepper.

Return the browned chicken to the pan to reheat and simmer for about 5 minutes.

 Serve chicken and sauce with pasta and a sprinkle of chopped parsley.