Halibut with Garlic Butter Herb Bread Crumbs
Halibut with Garlic Butter Herb Bread Crumbs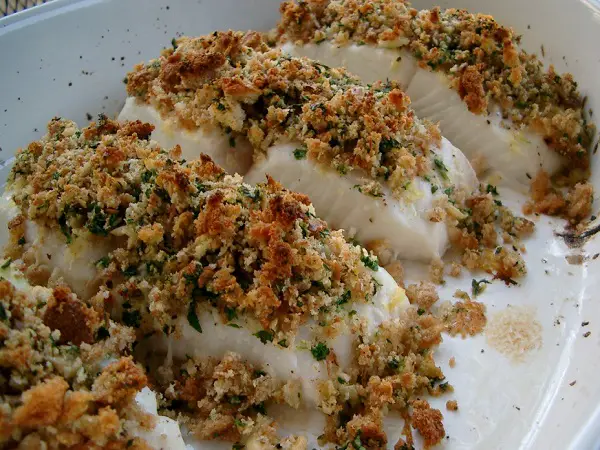 Ingredients
5 tablespoons butter, divided

4 (6-ounce) halibut fillets

Salt and freshly ground black pepper

1/2 lemon, zested and juiced

4 cloves garlic, smashed

1 cup panko

1/2 cup fresh parsley leaves
Directions
Preheat oven to 400 degrees.

Pulse the bread in a food processor to get slightly coarse bread crumbs.

Coat a casserole dish just large enough to hold the fillets with butter. Place the fillets in the dish and season with salt, pepper, lemon zest and juice.

Melt the remaining 4 tablespoons of butter in a large skillet with the smashed garlic. As soon as the butter starts to bubble, turn off the heat and let the garlic infuse the warm butter.

Add the panko and lightly toss until all the butter has been absorbed. Turn the heat off, stir in the parsley and season, to taste, with salt and pepper. (I usually use the food processor for the parsley, after I pulse the breadcrumbs).

Spread a layer of panko mixture over the top of each fillet. At this point, you can cover the dish with plastic wrap and refrigerate until you are ready to bake – up to 4 hours/

Bake for 12 to 15 minutes until bread crumbs are golden brown and fish is cooked through. *Depending upon the thickness of your fish, adjust cooking time.