The Sandwich – What is your favorite Sandwich?
The Sandwich
What is your favorite Sandwich?
*
Sandwiches
 Among Italian immigrants speaking broken English often called them
"Sangwiches". 
Sandwiches have been a major part of our lives and we each have one that we love more than others. Check into the video featuring Frank's Thoughts about Growin' Up Italian and then click on some of the sandwiches below for various recipes to construct same.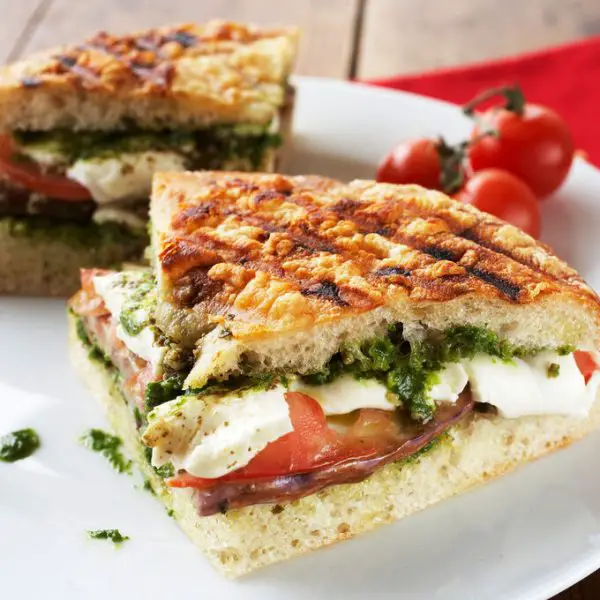 A panini or panino is a sandwich made with Italian bread usually served warmed by grilling or toasting.
However, in many English-speaking countries, a panini is a grilled sandwich made from many types of bread. Examples of bread types used for modern panini are baguette, ciabatta, focaccia and michetta. The bread is cut horizontally and filled with deli ingredients such as cheese, ham, mortadella, salami, or other food, and often served warm after having been pressed by a warming grill.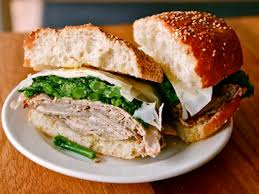 Roast Pork Sandwich with Broccoli Rabe
This is my favorite sandwich from Philadelphia. Absolutely Delicious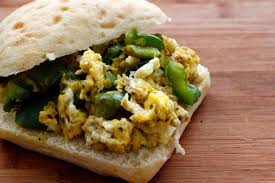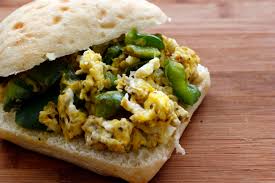 Pepper and Egg Sandwiches 
This was the sandwich of choice when I was Growin' Up.
My Favorite. YUM!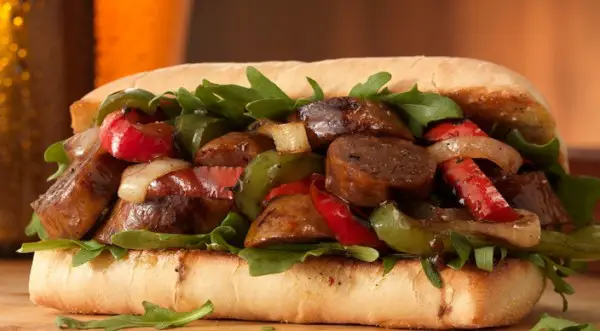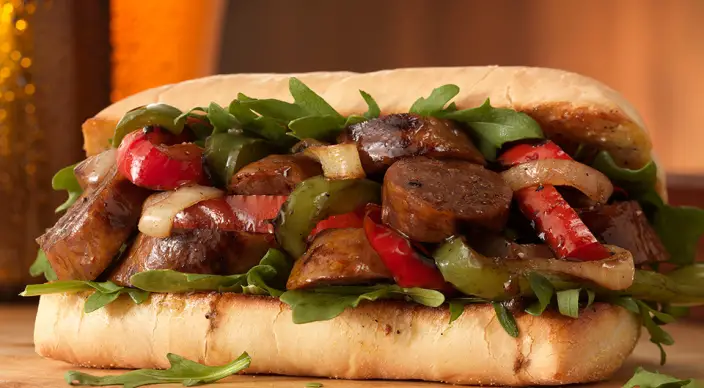 Sausage and peppers sandwiches are common at all Italian street festivals, feasts and events in the United States.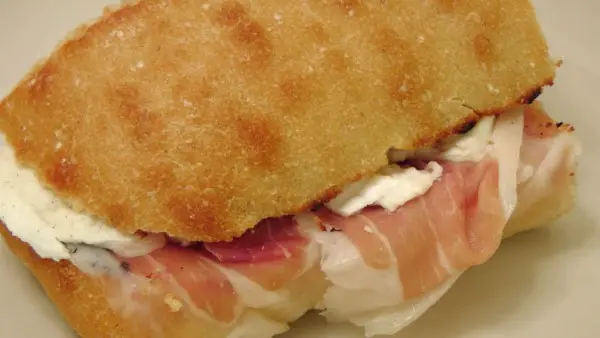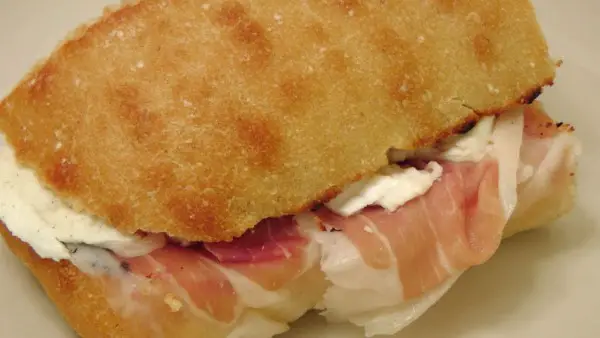 Prosciutto and Mozzarella – Another of our absolute favorite sandwiches
OMG!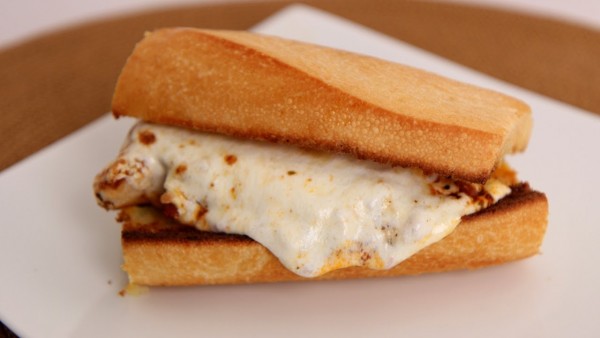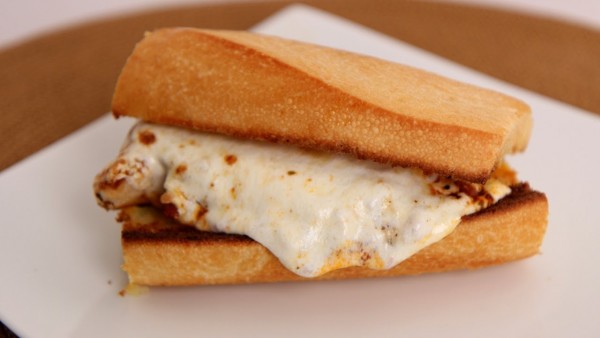 Chicken parmigiana also known in the United States as chicken parm and in Australia as a parma, parmi, or parmy. Another of our favorite Sangers…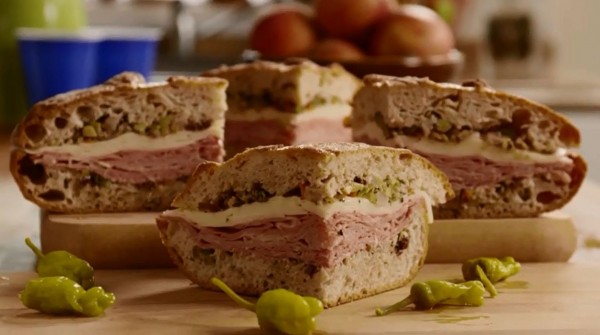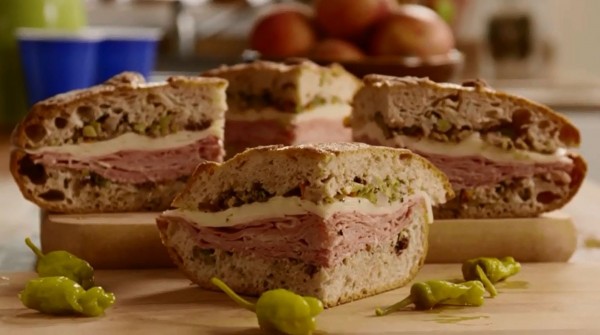 The muffuletta has origins in Sicily.
The traditional-style muffuletta sandwich consists of a muffuletta loaf split horizontally and covered with layers of marinated muffuletta-style olive salad, salami, ham, Swiss cheese, provolone, and mortadella.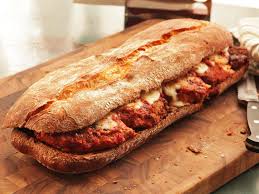 My absolute favorite when made by Mrs. Rose Forino.
I dream about this sandwich.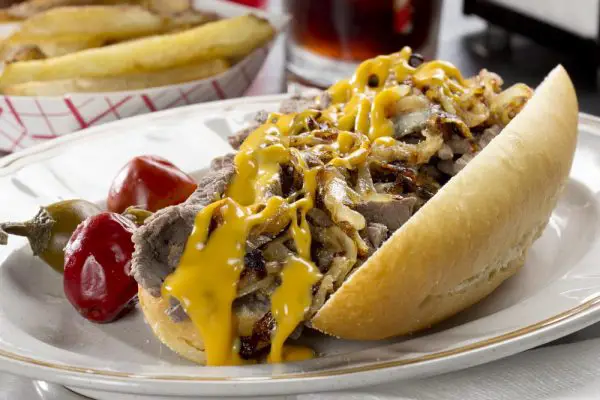 The meat for the original Philly Cheese Steak, traditionally used is thinly sliced rib-eye or top round, although other cuts of beef are also used.[14] On a lightly oiled griddle at medium temperature, the steak slices are quickly browned and then scrambled into smaller pieces with a flat spatula. Slices of cheese are then placed over the meat, letting it melt, and then the roll is placed on top of the cheese. The mixture is then scooped up with a spatula and pressed into the roll, which is then cut in half.
There are many versions of the traditional Submarine sandwich. My personal favorite comes from Atlantic City, NJ. The history is as follows: 
The White House Sub Shop was founded in 1946 on Arctic Ave in Atlantic City by Anthony "Tony" Basile along with his Aunt Basilia and Uncle Alfred "Fritz" Sacco. Prior to that date, the front of the building on Arctic Ave. was Mr. Basile's tailor shop. While business was scarce during WWII, his wife would sell sandwiches (on breads that she purchased from Formica's bakery across the street) that she made in her kitchen out of the back side door. After the war, he decided to close his tailor shop and open the front of the building as a cold "submarine" sandwich shop. 
These subs have been popular among locals and tourists alike, attracting numerous celebrities, including Frank Sinatra, Dean Martin, Jerry Lewis, Oprah Winfrey, Rocky Marciano, Joe DiMaggio, Donald Trump, several Miss Americas, and others. After The Beatles played a concert in Atlantic City in 1964, they stopped by at the White House Sub Shop for a 72-inch hoagie.