Tomato and Orzo Soup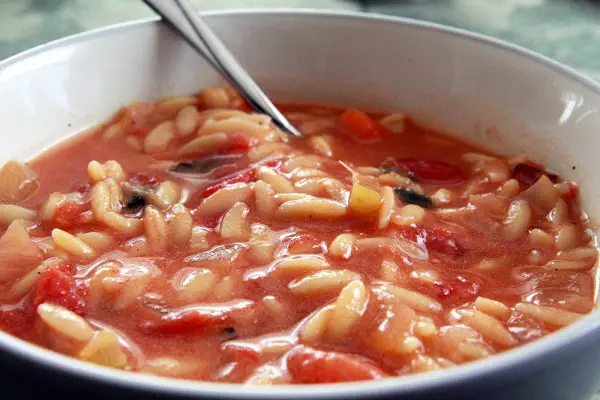 Ingredients:
Makes 13 cups (about 8 servings)
1 cup onion, diced fine

1/2 cup celery, diced fine

1/2 cup carrot, diced fine

2 Tbsp olive oil

4 cloves garlic, minced

2 28oz. cans crushed tomatoes with Italian herbs

1 carton (32 oz) vegetable stock

salt and cracked black pepper

2 jarred roasted red peppers, 1/4-inch dice

1 cup orzo pasta

1 cup light cream

2 Tbsp chopped fresh basil
Directions
Add onions, celery, and carrots and olive oil to large stockpot on medium-high. Cook, stirring, 6-7 min. Add chopped garlic. Cook 2 min, until vegetables are tender.

Add all tomatoes; simmer about 10 min. Add stock; return to simmer. Season to taste with salt and pepper.

Add red peppers and pasta. Simmer 8-10 min, stirring often, until pasta is firm but tender. Remove from heat.

Temper cream: Pour cream into medium bowl. Add a few ladles of hot soup to cream to slowly raise cream temperature. Add cream mixture to soup; fold in basil.

Ladle into warmed bowls to serve.