Torta di riso (rice pie) Written Recipe – Italian Cook –
Torta di riso (rice pie) Written Recipe – Italian Cook –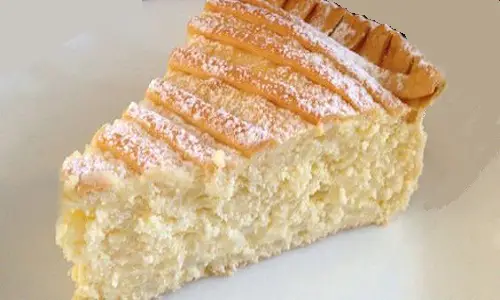 Rice pie is a traditional desert made in Bologna, Italy.  If you are fortunate enough to have memories of eating rice pie growing up, then try this recipe.  Keep in mind that this is a guide.  You can alter the amounts of each ingredient to customize the taste to your liking.  If you have never had rice pie, then give it a try and share it with your family and friends.  They will tank you.
Ingredients:
1 -2 tablespoon breadcrumbs, finely crushed and unflavored

4 1⁄2 cups milk

1 1⁄2  cups sugar

1 lemon, zest of, grated

3⁄4 cup arborio rice or 3⁄4 cup others hort-grain rice

5 eggs

1⁄2 cup blanched almond, finely chopped

1⁄2 cup candied citron peel, finely chopped

1⁄4 cup rum

2 -3 tablespoons rum

whipped cream
Preparation:
Preheat oven to 350ºF.

Butter a 10-inch spring form pan.

Sprinkle pan with fine unflavored breadcrumbs and shake off excess crumbs.

Combine milk, sugar and lemon zest in a medium saucepan; bring to a boil, stirring frequently.

Stir in rice and reduce heat.

Simmer uncovered 45 minutes to 1 hour or until all the liquid is absorbed; stir occasionally to make sure mixture is not sticking.

Remove from heat and let cool.

Beat eggs until foamy in a large bowl.

Add cooled rice mixture, almonds, candied citron and 1/4 cup rum.

Mix thoroughly.

Pour rice mixture into buttered pan and level top with a spatula.

Bake 40 to 45 minutes or until a wooden pick inserted in center of cake comes out dry.

Pierce holes in top of cake with fork and sprinkle with 2 to 3 Tablespoons rum. Cool to room temperature, them remove cake from pan. Decorate with whipped cream.
Recipe from: Food.com