Tortellini Spinach Bake in Creamy Lemon Sauce
Tortellini Spinach Bake in Creamy Lemon Sauce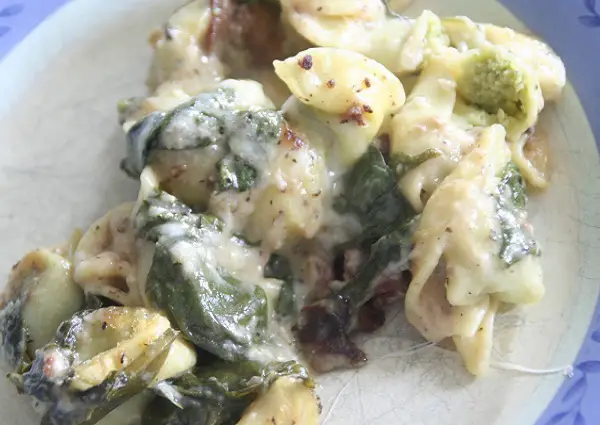 Ingredients
12 oz bag Barilla Cheese & Spinach Tortelini

 4 oz bacon or pancetta, (about 4 strips bacon)

3 cloves garlic, pressed in garlic press or finely minced

2 Tbs flour

2 C milk

¾ tsp kosher salt

⅛ tsp black pepper

1 1/2 tsp dry basil

¼ tsp red pepper flakes (1/2 tsp or more if you like spicy)

1 medium lemon, zested and juiced

2 C loosely packed fresh spinach, roughly chopped

¾ C grated mozzarella cheese, divided

¾ C grated Parmesan cheese, divided
Directions
    Preheat oven to 350 degrees.  Cook pasta according to package directions.  Drain.

    Cook bacon until crisp; drain on paper towels.  Reserve two tablespoons bacon grease and discard the rest.

    Add garlic to bacon grease and cook until fragrant, about 1 minute.  Whisk in flour and cook for about a minute.  Add milk, continuing to whisk until smooth.  Add basil, red pepper flakes, salt, and pepper and stir.  Bring to a simmer.  Add 2 teaspoons lemon zest and 1 tablespoon lemon juice.  Continue to stir until thickened, about 2-3 minutes.  Remove from heat.

    Reserve all but 1 tablespoon of the bacon and add the rest to the pasta.  Add spinach, 1/2c mozzarella, and 1/2c Parmesan, then add sauce.  Stir gently.

    Transfer to an 8×8 or 9×9 baking dish.  Top with remaining cheese and bacon.  Cover with foil and bake 20 minutes.  Remove foil and bake until cheese is melted and pasta is bubbly, about 5-10 minutes.    Allow to cool for 10 minutes before serving.