Tortellini with Spinach and Parmesan Cream Sauce
Tortellini with Spinach and Parmesan Cream Sauce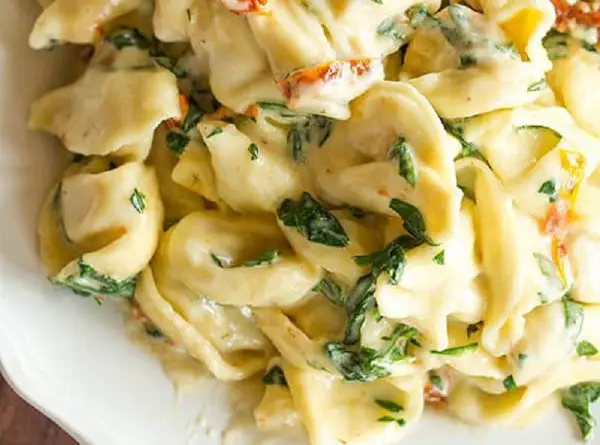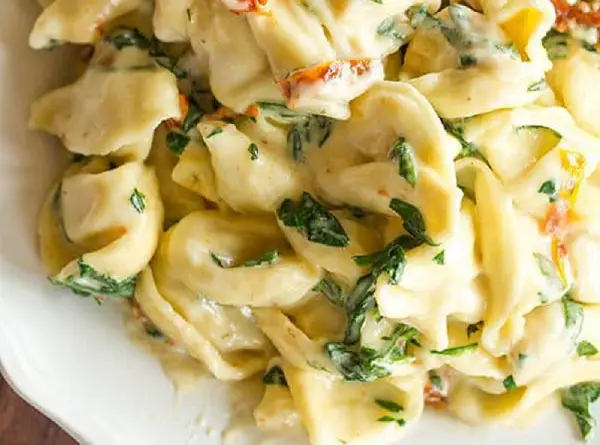 Ingredients:
Yield: 6 servings
1 package (16 ounces) frozen cheese tortellini

1 small onion, chopped

2 tablespoons olive oil

3 garlic cloves, minced

1 can (14-1/2 ounces) diced tomatoes, undrained

1 package (10 ounces) frozen chopped spinach, thawed and squeezed dry

1-1/2 teaspoons dried basil

1 teaspoon salt

1/2 teaspoon pepper

1-1/2 cups heavy whipping cream

1/2 cup grated Parmesan cheese

Additional grated Parmesan cheese, optional
Directions:
1) Cook tortellini according to package directions. Meanwhile, in a large skillet, saute onion in oil until tender. Add garlic; cook 1 minute longer. Add tomatoes, spinach, basil, salt and pepper.
2) Cook and stir over medium heat until liquid is absorbed, about 3 minutes. Stir in cream and cheese. Bring to a boil. Reduce heat; simmer, uncovered, for 8-10 minutes or until thickened.
3) Drain tortellini; toss with sauce. Sprinkle with additional cheese if desired.