Trenette with Mussels and Clams
Trenette with Mussels and Clams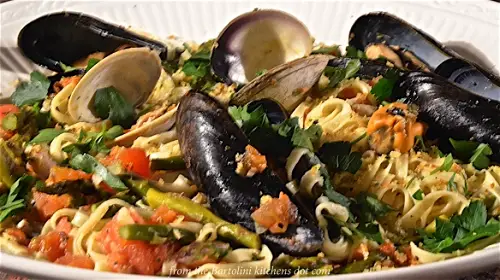 Ingredients
1 lb (450 g) trenette pasta – spaghetti or linguine may be substituted

3 tbs olive oil

1 clove garlic, minced or diced

red pepper flakes, to taste

3 plum tomatoes, peeled, seeded, and chopped

about 1/2 cup dry white wine

1 lb littleneck clams, soaked to remove grit and scrubbed

1 lb mussels, scrubbed with beards removed

1/2 lb of fresh asparagus, chopped into 2 inch (5 cm) pieces

2 tbs fresh basil chopped

salt and pepper to taste

roasted bread crumbs for garnish – optional

fresh parsley for garnish
Directions
Begin heating a large pot of salted water to be used to cook the pasta.

Heat the olive oil in a large frying pan with a lid over medium heat.

Add garlic and red pepper flakes. Cook for 2 minutes.

Add tomatoes and wine. Stir well to combine.

Continue cooking until most of the wine has reduced and the tomatoes have broken down — about 20 to 25 minutes.

Add the asparagus and basil, stir, and then add the clams. Cover the frying pan.

Add the pasta to the boiling water.

About 2 minutes later, add the mussels to the frying pan and cover again.

The mussels and clams should be opening at just about the time the pasta is nearing al dente – about 4 to 5 minutes.

Drain the pasta and add it to the frying pan. Toss to combine. Continue cooking until the pasta is cooked to your satisfaction.

Place the frying pan's contents into the serving bowl. Be sure to remove and discard any unopened clams and mussels. When in doubt, toss it out!

Garnish the dish with toasted bread crumbs and parsley before serving. Please, no cheese for this seafood dish.