Una Torta Lasagna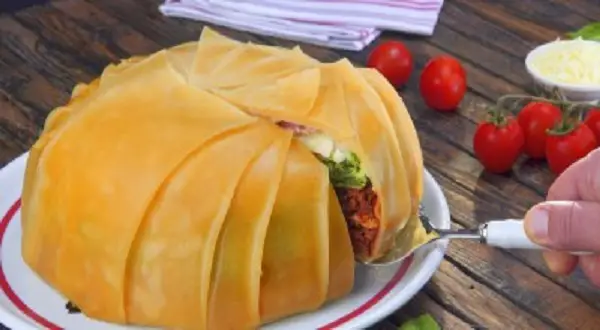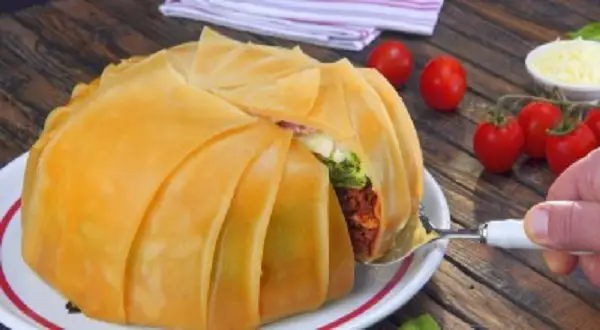 Ingredients
30 sheets of lasagne previously cooked

100 g of sliced ​​salami

150 ml of béchamel

150 g grated mozzarella cheese
For pesto:
1 sprig of basil

75 g of roasted pine nuts

70 g of grated Parmesan cheese

1 clove of garlic

125 ml of olive oil
For the sauce:
500 g of minced meat

75 g chopped onion

1 clove of garlic

200 ml of tomato sauce

Salt and pepper

1 tablespoon of oregano
How to proceed:
1. Place a ceramic bowl (also suitable for the oven) with a first layer of lasagna sheets.
2. Place in the center some slices of salami. Then add over a few tablespoons of bechamel, previously mixed with 75 gr grated mozzarella. Cover with a few sheets of lasagna, then proceed in the same way, until it forms a second layer of salami and bechamel.
3.Cover this last layer with lasagna sheets and now lay a layer of pesto, previously prepared.
4.In the meantime, grind the minced meat. Add onion and chopped garlic, then tomato sauce and oregano. Let it cook for a few minutes. Also combine mozzarella. Then add this last layer of meat as the last level of your pie. 5. Place some lasagna on the top again and close it all using the leaves of the side lasagna leaves.
6.Cook now at 300° F for 20 minutes.