Veal escalopes Roman style (Saltimbocca alla romana)
Veal escalopes Roman style (Saltimbocca alla romana)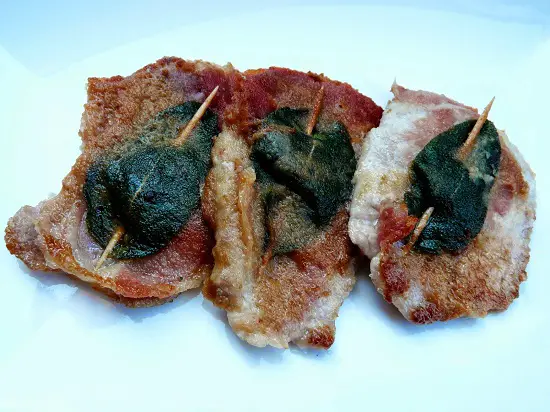 This is a great classic of Roman cooking. It's delicious, easy to prepare. Serve with a fresh plain salad or mashed potadoes. If you prefer you can substitute white wine with Marsala wine or Brandy and veal meat with pork or turkey: everyone has his own version and recipe…
Ingredients
You need for 4:
14 ounces of veal in thin slices (about 1/4 inches each)

3 1/2 ounces Parma ham in thin slices

a handful of sage leaves

1/2 a glass of white dry wine

1 ounces butter

salt and pepper

flour
Directions
Flour the veal slices,

Put on each one a slice of Parma ham (same size more or less) and over the ham put a leaf of sage.

Fix everything with a toothpick.

Heat a large skillet, add butter, when it fries add the escalopes (if they're too many for the pan cook in more than one times: take the cooked ones in the warm on a plate near the stove), salt and pepper and the white wine.

Cook for 2 minutes on each side, serve hot with the side dish.