Zucchini-Applesauce Muffins
Zucchini-Applesauce Muffins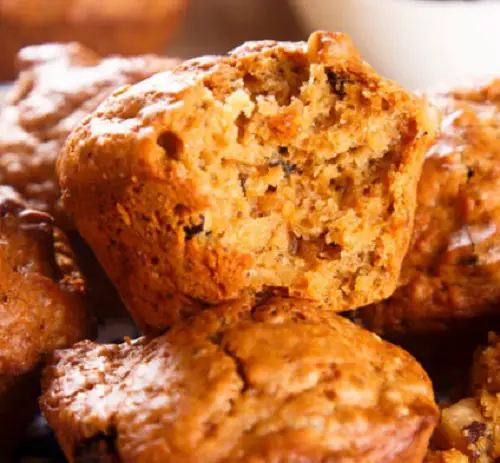 Ingredients
¾ cup sugar

1 extra-large egg

1 tsp vanilla extract

Heavy pinch salt

2 cups zucchini and/or summer squash, grated and squeezed of excess liquid

⅓ cup vegetable oil

⅓ cup unsweetened applesauce

2 cups all-purpose flour

1 ½ tsp baking soda

1 ¼ tsp cinnamon

¼ tsp nutmeg

½ cup toasted pecans, chopped

½ cup raisins
Instructions
Heat oven to 350°F and adjust the oven rack to the middle position. Spray a 12-cup muffin tin with nonstick cooking spray.

In a large bowl combine the sugar, eggs, vanilla, and salt. Stir in the squash, oil, and applesauce. In a separate bowl, mix together the flour, baking soda, nutmeg, and cinnamon. Add the dry ingredients to the zucchini mixture and stir until just incorporated. Add nuts and raisins and stir to combine.

Using a spoon, distribute the batter equally among the cups. Bake until muffins are golden brown and a toothpick inserted into the center of the muffin comes out clean, about 25 to 30 minutes. Allow the muffins to cool for about 5 minutes, then remove them from the tin and allow to cool completely.