Alici Indorate e Fritte (fried anchovies)
Alici Indorate e Fritte (fried anchovies)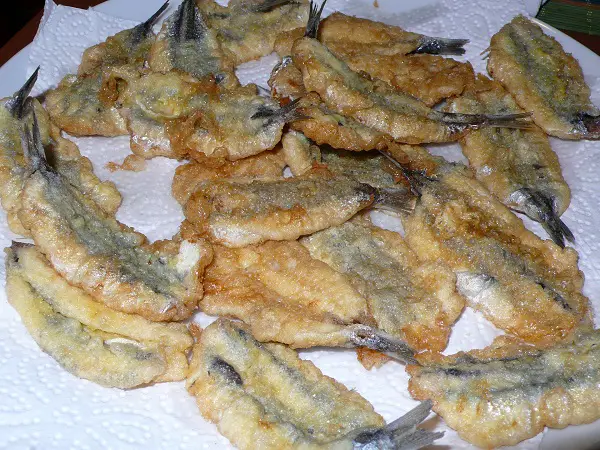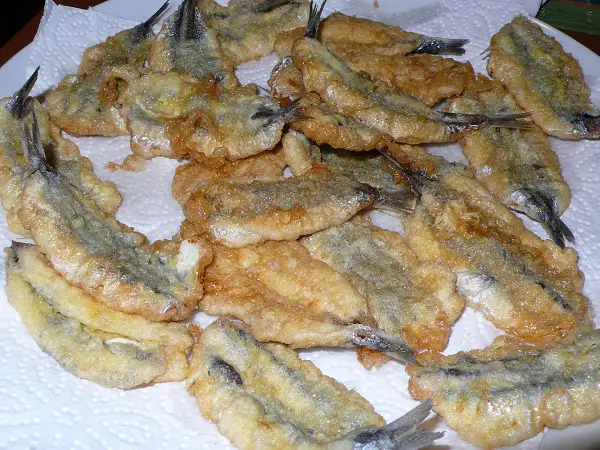 Ingredients
    2 lbs of fresh anchovies

    2 cups of semola flour

    4-5 cups of vegetable oil

    1-2 eggs, beaten

    salt and pepper to taste
Directions
Clean the anchovies, remove the head and the guts, remove the spine by holding the tail and removing from the tail end, the tail keeps the body intact. Rinse them well and open them up like a book. Dry them off with paper towels.

In large bowl, mix flour and a pinch of salt together. In 4-quart deep, heavy pot over high heat, heat 2 inches oil until it sizzles when you put the corner of a piece of bread or sprinkle some flour in it.

Dredge a hand-full of anchovies in flour mixture, tossing to coat well.

Transfer to sieve and shake to remove excess flour. Dip in the egg, letting some  of the egg drain off before placing them in the oil.

Fry, stirring frequently to separate, until golden, about 3 minutes, then transfer with slotted spoon to paper towels to drain.

While they are draining sprinkle salt on the fried anchovies.

Repeat with remaining anchovies, making sure that the oil's heat stays hot between batches. You may need to change the oil or add more while you are frying, so be sure to have a lot at hand.

Serve immediately.