Artichokes and mozzarella pie
Artichokes and mozzarella pie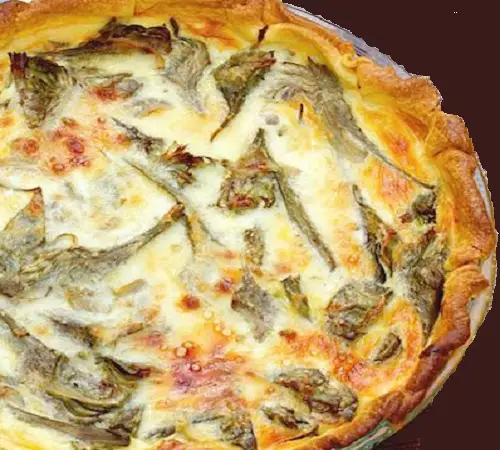 Ingredients For 6 people:
Flour 350g
4 eggs
1 cube of yeast
butter 70g
5 artichokes
mozzarella cheese250g
grated Parmesan cheese 100g
milk
olive oil
chopped parsley
butter (to grease)
salt and pepper.
PREPARATION
Clean the artichokes by removing the tips and the hardest parts and wash them and cut into 8 parts.
In a saucepan put to heat the olive oil then add the artichokes, season with salt and sprinkle with chopped parsley and cook for about 20 minutes with the lid on.
Meanwhile, prepare the dough: pour the flour on a pastry board then add yeast previously dissolved in warm milk, 2 eggs, 50 grams of grated cheese, salt and pepper; knead vigorously until mixture is smooth and homogeneous.
Roll out the dough with a rolling pin and coat a round baking pan greased with butter then pour over the artichokes, mozzarella cheese and remaining egg mixture along with the cheese.
Place in preheated oven at 180 ° C and cook for 25 minutes, checking cooking.