Baked Anelletti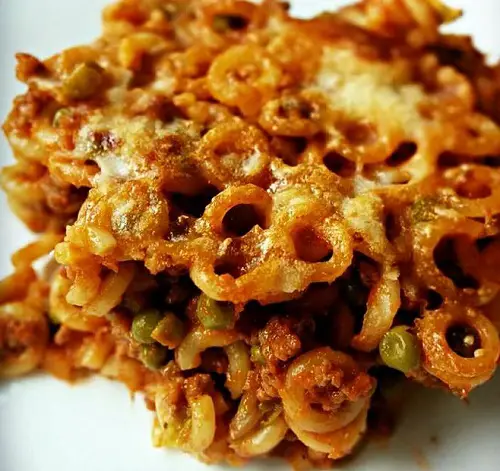 Ingredients For 4 people:
Anelletti 350 gr
lean veal chopped 250 gr
a tomato sauce 700 gr
shelled peas 200g
1 stalk of celery
½ onion
½ carrot
grated cheese 50 gr
dry white wine
extra virgin olive oil
butter
bread crumbs
sugar
chopped parsley
basil
salt, pepper.
PREPARATION
In a large saucepan, sauté the chopped onion, carrot, celery and parsley along with four tablespoons of olive oil and a knob of butter. Add the chopped veal and let it cook over moderate heat, then sprinkle with the white wine and let it evaporate for a few minutes.
Add the peas and cook for half an hour the sauce, then add the tomato puree, a few basil leaves and then season with salt, pepper and a pinch of sugar.
Cook over low heat for about 40 minutes, stirring often and, if the juices should shrink too much, add a little 'hot water.
Boil anelletti in plenty of boiling salted water, then drain and flavor with the sauce and a generous sprinkling of grated cheese.
Grease a baking sheet and sprinkle with breadcrumbs, then pour anelletti and level with a wooden spoon until you have a flat surface. Cover with another bread crumbs mixed with cheese and bake in a preheated oven at 200 degrees for about 40 minutes. Let stand about 15 minutes and then serve.