Bisciola Sweet Bread Dessert
Bisciola Sweet Bread Dessert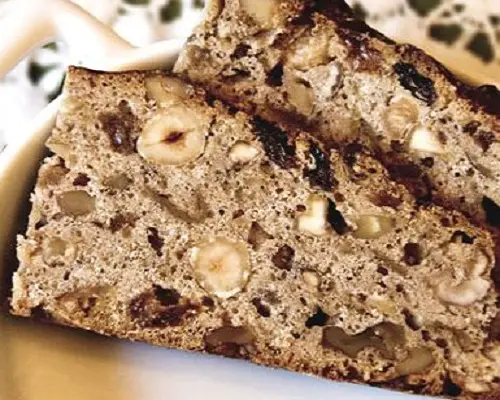 The tradition of preparing this sweet Italian bread started in Valtellina. According to popular belief, in 1797, when French troops were in the area, it was Napoleon who asked the chefs to think of a dessert that employs only locally available ingredients. Following his request, the chefs created this leavened bread that combines wheat and rye flour with eggs, butter, hazelnuts, figs, raisins, pine nuts, and walnuts.

Ingredients
for 4-6 people:
 Dried figs 120 gr

candied citron 100g

candied orange 60g

walnuts 100 gr

pine nuts 80 gr

almonds 80g

dark chocolate 150 gr

5 eggs

flour 00 120 gr

rye flour 80 gr

sugar 160gr

butter 80gr

1 packet of baking powder

1 packet of vanilla sugar

butter (to grease)

flour (or bread crumbs, to powder).
 PREPARATION
Cut into cubes dried figs and candied orange and cedar rind.

Chop coarsely the walnuts and almonds.

Place a pan in a double boiler and melt the chocolate; Meanwhile, beat the eggs with the sugar then add, alternately, the melted butter and chocolate, the flour mixed with baking powder and vanilla sugar, chopped dried fruit, and diced candied fruit.

Mix well then cover with a cloth and let rest for about 1 hour.

After this time, grease with butter and dust with flour a rectangular mold, pour in the mixture and place in preheated oven at 180 ° C for 40 minutes.

Serve the bisciola cold, cut into slices.
Variants
Traditionally, replace walnuts and almonds, with chestnuts boiled and peeled previously.
Preparation time: 2 hours, 0 minutes, 0 seconds