Cauciuni From Molise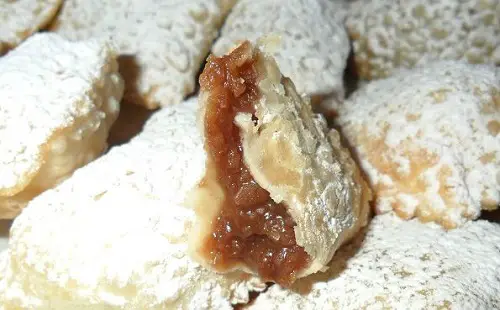 Fried pastries prepared in Molise during the Christmas days. Traditionally, package them as gifts and the homage, is always very appreciated because … they are delicious !!
Ingredients ::
For the dough
Flour 500g

3 eggs

1 egg yolk

3 tablespoons of sugar

1 small glass of vermouth (or sweet dessert wine)

1 small glass of olive oil.
For the filling
Chickpeas (kept in water for a night) 300 gr

unsweetened cocoa powder 100g

some cloves, crushed

cinnamon powder

candied citrus peel, cut into cubes

1 glass of Cognac (or brandy)

salt.
For the topping
Honey

icing sugar mixed with cinnamon

olive oil.
PREPARATION
Pour the flour on a pastry board, then add the sugar, eggs and wine.

Mix well until the mixture will be soft then, using a rolling pin roll out the dough into a thin sheet and from this, with the appropriate pastry wheel, following the edge of a saucer, create some discs.

Cook the chickpeas in lightly salted water, then chop them several times through the mill and when they become creamy, add the cocoa, a pinch of cinnamon, cloves, candied citron and Cognac, mixing well all the ingredients.

Place a bit 'of compound of chickpeas on each circle of dough then, with fingers slightly moistened, fold the dough over itself and form crescents by welding the edges.

Fry the cauciuni in plenty of hot oil then cover them with honey dissolved in a double boiler, sprinkle with powdered sugar and cinnamon and serve cold.
Preparation time: 1 hours, 30 minutes, 0 seconds