Calcionetti From Abruzzo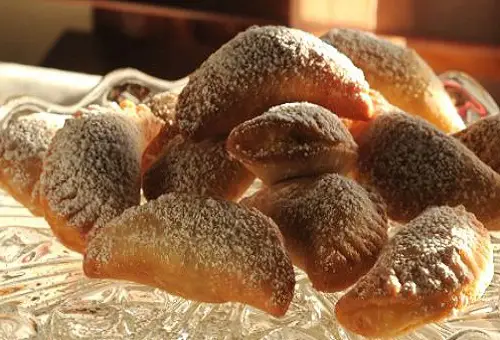 It's not Christmas in Abruzzo if you do not  smell the cooked grapes must combined with the fragrance of spicy cinnamon, cleverly sprinkled with icing sugar on delicious calcionetti!
Ingredients ::
For the dough
Flour 500g

dry white wine

½ teaspoon of baking powder

0.5 dl of olive oil.
For the filling
Cooked grape must 0.5 l.

toasted and finely chopped almonds 150g

walnuts, chopped 40 gr

dried chestnuts 300 gr

sugar 40g

candied citron, chopped 40g

cinnamon.
For cooking
Olive oil (for frying)

cinnamon powder

icing sugar (for sprinkling).
 PREPARATION
The night before preparing, put the chestnuts to soak in cold water by eliminating those that come to the surface as quarries or buggy.

The next morning, boil the chestnuts in boiling water, drain, peel and put them through a sieve.

In a saucepan put to heat the grape must, add the almonds and chopped walnuts, a pinch of cinnamon and chestnut cream.

Turn off the heat and add the sugar and chopped citron mixing well, then place the mixture in the refrigerator and let stand for about 2 hours.

On a pastry board put the flour then add the yeast and the oil, then sprinkle with wine enough the dough will be smooth and firm.

Roll out with a rolling pin, a thin sheet and with a glass upside down, cut many circles of about 5 centimeters in diameter.

Place the center of each circle of dough a teaspoon of filling then fold the dough over itself and weld edges so you get many crescents swollen.

Put to warm plenty of olive oil in a pan and when hot, fry the calcionetti on both sides; as soon as they are golden, drain, dry them on a paper towel, sprinkle with cinnamon and icing sugar and serve hot.
Variants
You can make the dough even replacing the flour with chestnut flour (or with boiled chestnuts and finely chopped).
The filling can vary the recipe by placing grated chocolate and liqueur Anisette or Aurum (locally produced).