Calciuni del Molise Chestnut Fritters
Calciuni del Molise Chestnut Fritters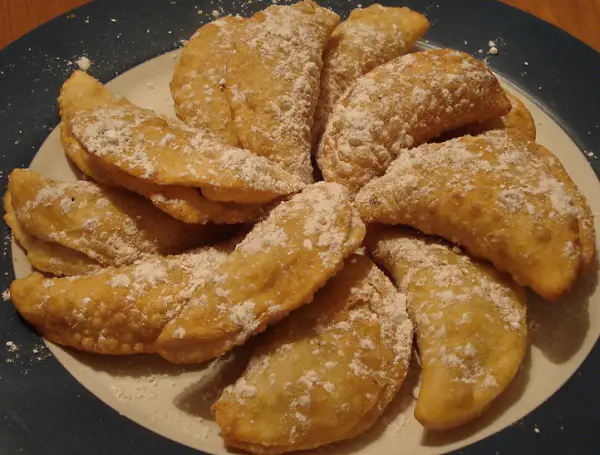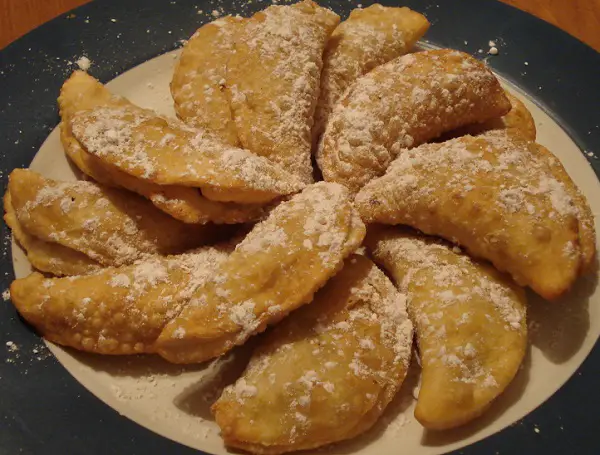 Ingredients:
-Makes 15 fritters
1 1/2 cups all-purpose flour

2 egg yolks

1/4 cup water

1 tablespoon olive oil

1 tablespoon white wine

1/4 pound chestnuts

1 1/2 tablespoons slivered almonds, toasted

1 1/4 teaspoons semi-sweet chocolate

2 teaspoons honey

1 tablespoon Amaretto liquor

1 pinch cinnamon

1/8 teaspoon vanilla extract

Oil for frying

Powdered sugar for garnish

Cinnamon for garnish
Process:
    Put the flour in a large bowl.  Make a well in the center and add the egg yolks, water, wine, and olive oil.  Mix the components slowly until a dough has formed.  Once the dough is formed, put it on a lightly floured surface and knead until smooth.  Cover the dough and set aside.

    Bring a pot of water to a boil.  Carefully, using a paring knife make an X on one side of each chestnut.  This will help you remove the skin later.  Add the chestnuts and let boil for about 10 minutes.  Drain the chestnuts and using a parking knife, remove the shell and then the skin from the chestnuts.

    In a food processor, chop the toasted almonds until finely ground.  Add the chestnuts and continue to grind until no large pieces remain.

    Put the ground chestnuts and almonds in a bowl. Grind the chocolate in the food processor until no large pieces remain.  Add to the chestnuts and almonds.  Add the honey, Amaretto, cinnamon, and vanilla to the nut/chocolate mixture.  Stir well.

    Roll the dough out to about 1/8 inch thick.  Using a 3-4 inch circle cookie cutter (using the open end of a drinking glass works as well), cut out circles from the dough.  You should be able to get 15 rounds.

    Place about 1/2 to 1 tablespoon (depending on the size of your rounds) in the center of each circle.  Fold one end over and pinch tightly around the edges to close.  Make sure that you seal it fully and that you don't over-fill the rounds, or the filling will escape when frying.

    Heat oil in a heavy-bottomed pan.  Fry the calciuni a few at a time until golden brown on each side (takes a couple minutes).  Remove with a slotted spoon and place on a paper towel to drain.

    Arrange on a plate and sprinkle with powdered sugar and cinnamon.