Chestnut Tortelli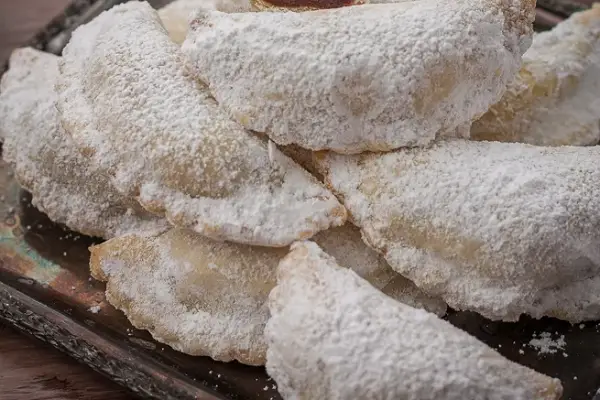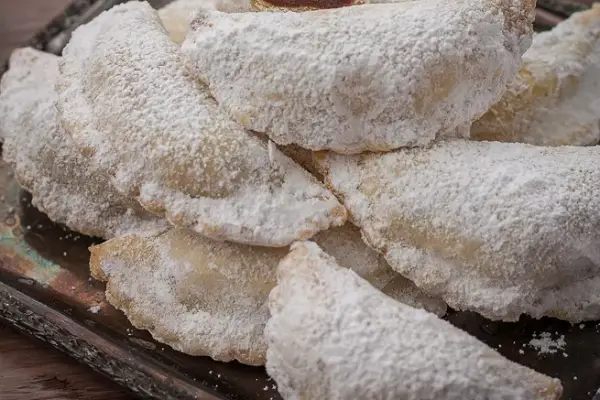 Chestnut Tortelli (aka Baby Jesus' Pillows) are a traditional Italian Christmas dessert. They are made with a pastry dough that is filled with a mixture of ground chestnuts, rum, cinnamon, and chocolate.  Some cooks fry rather than bake these cookies.  They can also be drizzled with honey or rolled in cinnamon-sugar.  In Calabria and other parts of southern Italy, cooked chickpeas are substituted for the chestnuts.  A similar recipe with a dried fig filling is called buccellatini.

Ingredients:
(Makes about 60)
Dough:
3-1/2 cups all-purpose flour

2 teaspoons baking powder

1 teaspoon salt

8 tablespoons unsalted butter, cut into chunks

2 eggs, room temperature

1/4 cup olive oil

2 tablespoons cold water
Filling:
10 ounces peeled, cooked fresh or canned chestnuts

2/3 cup sugar

1 tablespoon unsweetened cocoa powder

3 tablespoons rum or brandy

1-1/2 teaspoons ground cinnamon

3/4 cup chopped semisweet chocolate or mini chocolate chips

Confectioner's sugar for coating
Directions:
To make the dough:
Combine the flour, baking powder, and salt in a food processor.  Add the butter and pulse the mixture until coarse crumbs form.  In a small bowl, whisk together the eggs, oil, and water.  Add to the flour mixture and pulse until a dough starts to form.  Remove the dough, shape into a disk, and wrap in plastic wrap.  Let rest for 30 minutes.  The dough can also be refrigerated for up to 48 hours.
To make the filling:
Combine the chestnuts, sugar, cocoa, and rum, and cinnamon in a food processor.  Process until finely chopped and transfer to a bowl.  Stir in the chocolate.

Preheat the oven to 375-degrees F.

Line 2 large baking sheets with parchment paper.

Divide the dough into 4 pieces.  Roll out each piece about 1/8-inch thick.

With a biscuit cutter, cut out 2-1/2 inch rounds.  Place a teaspoon of the filling on one half of each round.  Moisten the edge of the round with a little water, fold the round in half and pinch the edges to seal.  Place the tortelli on the baking sheets.

Bake 15 minutes or until lightly browned and crisp.  As the tortelli come out of the oven, transfer them to a bowl filled with the confectioner's sugar.  Roll them in the sugar and then transfer to wire racks to cool.  Store in an airtight container for up to 2 weeks.