Gingerbread Pizzelle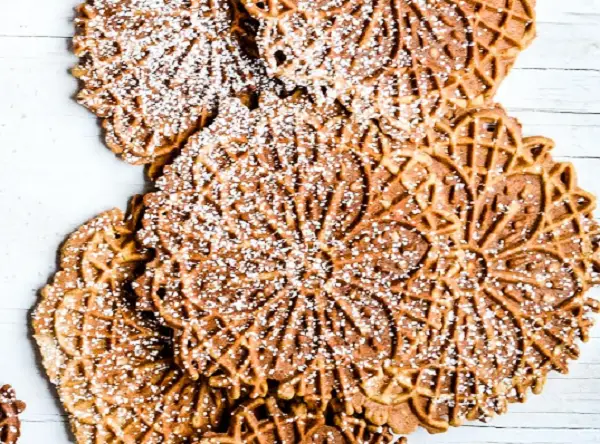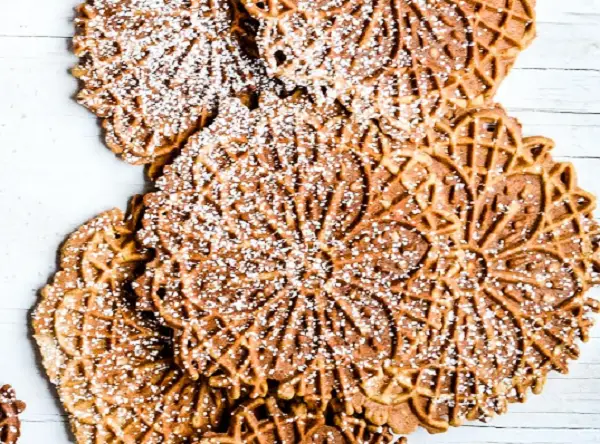 This is a traditional Italian pizzelle recipe with the warm winter spices of gingerbread added, making them a perfect cookie for the holidays

Ingredients:
(Makes about 2 dozen)
1-3/4 cups flour

2 teaspoons baking powder

1 teaspoon cinnamon

1 teaspoon ginger

1/2 teaspoon nutmeg

1/4 teaspoon ground cloves

1/4 teaspoon salt

3 eggs

1/2 cup brown sugar

2 tablespoons molasses

1 teaspoon vanilla

1/2 cup unsalted butter, melted

Confectioners' sugar to dust (optional)
Directions:
In a bowl, combine the flour, baking powder, cinnamon, ginger, nutmeg, cloves, and salt. Stir to mix well. In another bowl, beat together the eggs, brown sugar, molasses and vanilla.  Stir in the melted butter.  Add the flour mixture and stir well to combine into a smooth batter.

Preheat a pizzelle baker according to manufacturer's directions.

Place about 1 heaping tablespoon of the batter on each grid pattern.

You may want to use 2 spoons to place the batter on the grid, using the second spoon to push the batter off of the other spoon. Or you can use a small ice cream scoop. You will find that by placing the batter slightly behind the center of the pattern, your pizzelles will come out closer to a round shape. This is because, as you close the baker, the batter squeezes forward slightly. Close the baker and clamp the handles together.

Baking will take 30-40 seconds, depending on how brown you like them and the consistency of the batter. Remove the pizzelle from the grid with a fork or spatula. Place on a paper towel to cool.

Store pizzelle in an air-tight container at room temperature for 2-3 weeks.

When exposed to air the pizzelle will absorb moisture and become limp.

If this happens, put them in a hot oven for a short time and they will regain their crispness.