Chicken Cutlets with Lemon Caper Sauce
Chicken Cutlets with Lemon Caper Sauce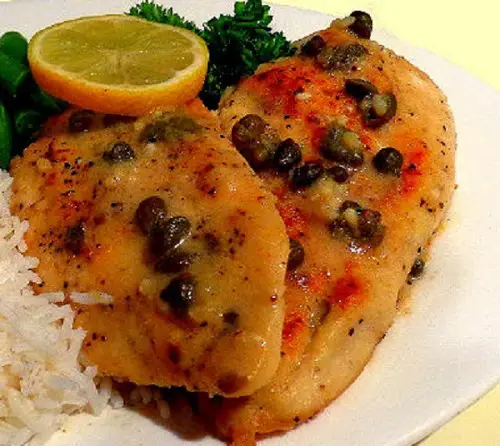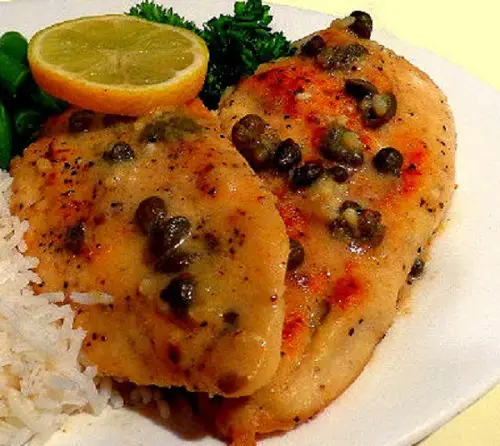 Ingredients:
Yield: 2 servings.
1 teaspoon kosher salt

1 teaspoon ground black pepper

1 teaspoon lemon pepper seasoning

1/4 cup quick mixing flour (i.e. Wondra), divided use

2 (6-oz. each) chicken breasts, cut lengthwise to make 4 thin cutlets

Zest and juice of 1 lemon

2 tablespoons olive oil

1 cup chicken broth

2 tablespoons capers or chopped green olives

1 tablespoon finely minced cloves garlic

2 to 3 tablespoons half-and-half

Parsley, for garnish (optional)
Directions:
On a flat dish, combine kosher salt, pepper, lemon pepper and 3 tablespoons flour. Coat chicken cutlets in flour mixture and place on a plate. Sprinkle half of the lemon zest over cutlets.

Heat oil in a large skillet over medium heat. Brown chicken until cooked through, about 3 minutes per side. Transfer to a fresh plate. Add garlic to skillet and saute until fragrant, about 30 to 60 seconds

In a bowl, whisk remaining 1 tablespoon flour, lemon juice, chicken broth, capers, and remaining zest until smooth. Pour sauce into skillet with drippings and whisk until combined. Cook until mixture lightly coats a spoon. Add half-and-half. Return chicken to pan and heat through, 2 minutes. To serve, spoon sauce over cutlets and garnish with parsley, if desired.