Pork Cube Steaks with Peppers and Tomatoes
Pork Cube Steaks with Peppers and Tomatoes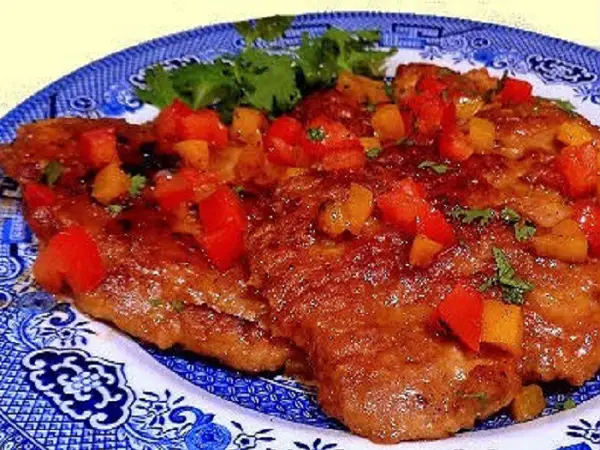 Ingredients:
Yield: 2 servings
3 pork cube steaks

1/4 cup all-purpose flour

1/2 teaspoon coarse garlic salt

1/4 teaspoon pepper

2 teaspoons butter

2 teaspoon vegetable oil

1/3 cup condensed chicken broth, undiluted

1/3 cup white vermouth or dry white wine

1/4 cup diced sweet yellow pepper

1/4 cup diced tomato

1 tablespoon minced fresh cilantro
Directions:
1) Season cube steaks with salt and pepper. Dredge in flour, gently shaking off excess.
2) Heat butter and oil in a large skillet. When butter has melted and the butter and oil combinations shimmers, add pork cube steaks and brown both sides. Stir in broth, vermouth and add yellow peppers to pan. Bring to a boil and cook for about 5 minutes or until liquid is reduced by half. Stir in tomatoes and cilantro and heat though. Serve immediately.