Gemelli with Fennel & Bacon
Gemelli with Fennel & Bacon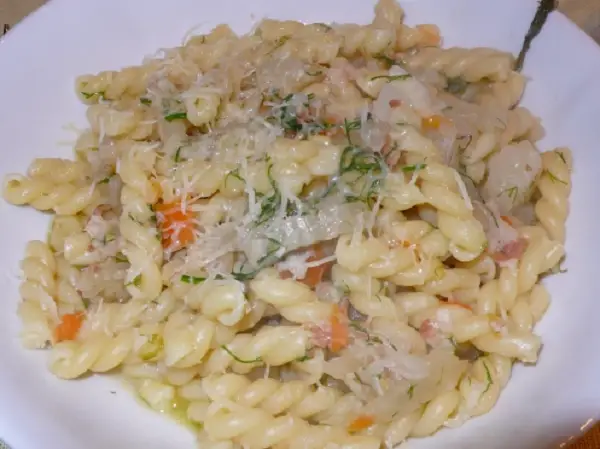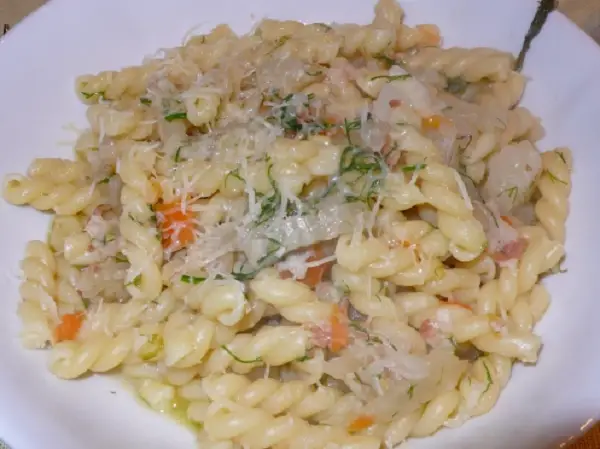 Ingredients
    1 large fennel bulb, chopped, fronds set aside

    1 medium onion, cut into rings

    1 small carrot, cut with a peeler

    1 celery stalk, minced

    4 slabs of bacon, cut into small pieces

    3 tbsp extra virgin olive oil

    ½ lb of gemelli pasta

     salt for pasta water

    Grated parmigiano reggiano
Directions
Chop the fennel into small pieces, almost like you would chop an onion. Heat oil in a wide saucepan over medium-high heat and add the chopped fennel. Sauté the fennel over high heat until it turns golden. Add the onions, celery, bacon and carrot. Stir and simmer over medium heat until the pasta is cooked.

Fill a large pot with water for the pasta. Bring to a boil over high heat. Once the water starts to boil add a small handful of salt to the water and bring to a rolling boil. Add the pasta and cook until al dente.

When the pasta is perfectly al dente, turn up the heat on the sauce and drain the pasta. Without shaking all of the water out of the colander pour the pasta into the pan and toss it with the sauce. This allows for the pasta to cook a little longer in the sauce and absorb the flavor. If the sauce appears dry when you are about to drain the pasta, toss in a cup of the pasta water and bring to a boil.

Off the heat, toss the fennel fronds with the pasta and serve with grated parmigiano reggiano.