Squash with white beans and tomatoes
Squash with white beans and tomatoes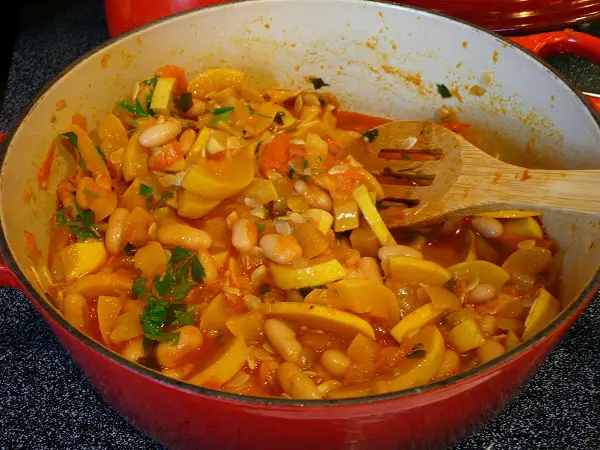 Ingredients
    3 tbsp extra-virgin olive oil

    2 large onions, finely chopped

    2 lbs ripe tomatoes, peeled, seeded, and chopped, or 2 28-ounce cans tomatoes, drained and chopped

    1/2 tsp sugar

    Salt and freshly ground pepper, to taste

    1½ tsp paprika

    1 lb yellow and

1 lb zucchini,

    1/3 cup chopped fresh dill or 1 tbsp dried

    1/2 cup chopped fresh Italian parsley

    2 15-ounce cans white beans, drained

    Cayenne pepper, to taste

    2 or 3 tbsp strained fresh lemon juice (optional)
Directions
Heat oil in a deep skillet or stew pan.

Add onions and sauté over medium-low heat about 7 minutes or until just beginning to turn golden.

Add tomatoes, sugar, salt, pepper and 1 tsp paprika.

Cook, stirring often, over medium-high heat 7 minutes or until thick.

Add  squash to tomato sauce and sprinkle with salt and remaining paprika.

Cover and cook over low heat, stirring occasionally, 20 minutes or until tender. If pan becomes dry, add a few tbsp water during cooking. Reserve 1 tbsp dill and parsley.

 Add remaining dill and parsley, white beans, and cayenne and heat through.

Taste, adjust seasoning, and add lemon juice, if using.

Serve warn, room temperature, or cold, sprinkled with reserved herbs.