Chickpea and Arugula Soup
Chickpea and Arugula Soup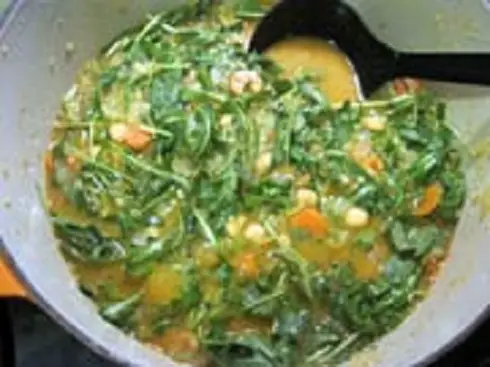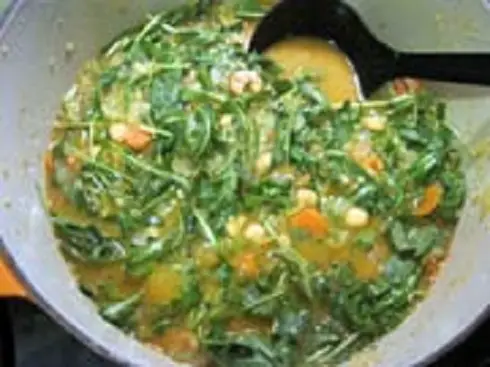 Makes 4 to 6 servings.
Ingredients:
One (19-ounce) can chickpeas (2 cups), rinsed and drained
5 ounces baby arugula (8 cups loosely packed)
1 large onion, finely chopped
2 medium carrots, thinly sliced crosswise
1 celery rib (from inner part of bunch), thinly sliced
3 garlic cloves, finely chopped
1/2 California bay leaf
1 teaspoon salt
3 tablespoons extra virgin olive oil
1 tablespoon tomato paste
2 cups chicken broth (16 fluid ounces)
2 cups water
1/2 teaspoon black pepper
Directions:
Cook onion, celery, carrots, garlic, and bay leaf with 1/2 teaspoon salt in olive oil in a wide 5 to 6-quart heavy pot over moderately high heat, stirring occasionally, until vegetables are softened, about 5 minutes.
Stir in tomato paste and cook, stirring, about 1 minute.
Add broth, water, chickpeas, 1/4 teaspoon pepper, and remaining 1/2 teaspoon salt and simmer briskly, covered, until vegetables are tender, about 15 minutes.
Discard bay leaf.
Transfer 1 cup soup to a blender and puree.
Stir back into soup.
Stir in arugula and remaining 1/4 teaspoon pepper and cook just until arugula is wilted, about 1 minute. Makes 4 to 6 servings.