Egg Pappardelle with Arugula, Leeks and Prosciutto
Egg Pappardelle with Arugula, Leeks and Prosciutto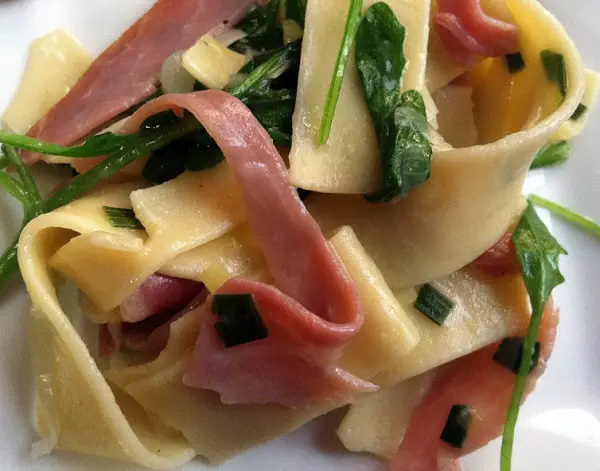 Ingredients:
1/2 pound egg pappardelle

Kosher salt

2 tablespoons olive oil

2 tablespoons unsalted butter

2 leeks, white and pale green parts only, halved lengthwise and thinly sliced crosswise

1/4 cup chopped fresh chives

1/4 teaspoon pure lemon oil

4 cups baby arugula

1/3 cup Parmesan cheese, plus more for garnish

Freshly ground black pepper

3 ounces prosciutto, torn into 1″ pieces
Directions
Cook pasta in a large pot of boiling salted water, stirring occasionally, until al dente.

Drain, reserving 2 cups pasta cooking liquid.

Meanwhile, heat oil and butter in a large heavy pot over medium heat.

Add leeks and cook, stirring often, until softened but not browned, 5-8 minutes.

Add pasta, chives, lemon oil, and 3/4 cup pasta cooking liquid.

Cook, tossing and adding more cooking liquid by 1/4-cupfuls as needed, until a glossy sauce forms that coats pasta, about 4 minutes.

Add arugula and 1/3 cup Parmesan, season with salt and pepper, and toss to combine.

 Add prosciutto and toss again.

 Top pasta with more lemon zest and Parmesan.