Farfalle with Grilled Zucchini and Sausages
Farfalle with Grilled Zucchini and Sausages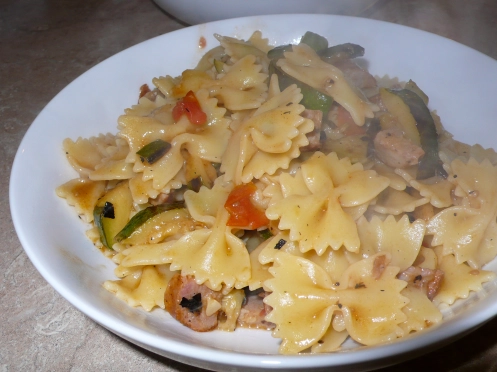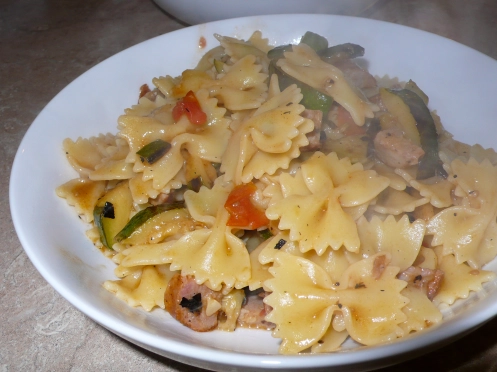 Ingredients
2 grilled zucchini, chopped

2 grilled sausages, crumbled or cut into slices and then quartered

1 cup cherry tomatoes, quartered

2 cloves garlic, peeled and left whole

1 tbsp extra virgin olive oil

1 lb farfalle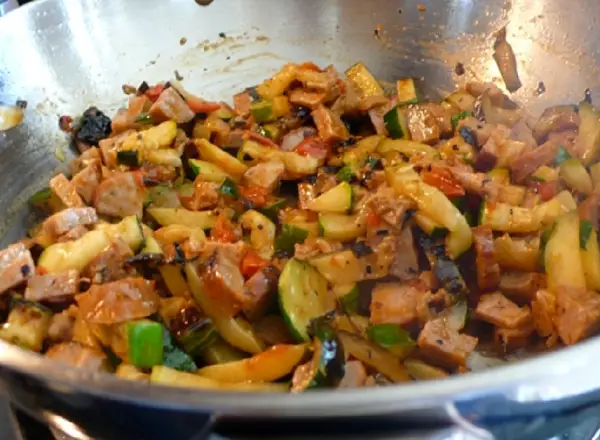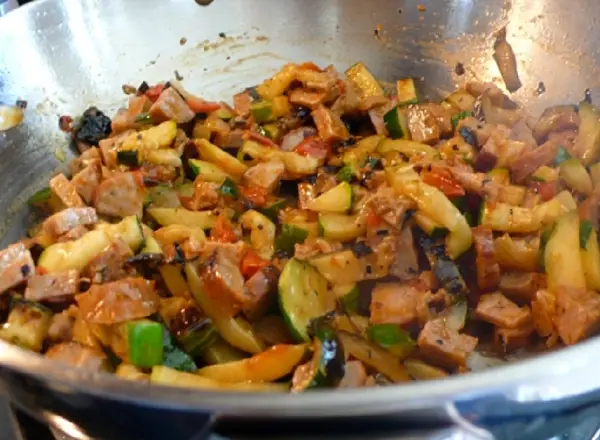 Directions
Fill a large pot with water for the pasta. Bring to a boil over high heat.

Heat oil in a wide saucepan over medium-high heat and add the whole cloves of garlic. When garlic starts to sizzle add the tomatoes. Simmer for about 5 minutes, letting the tomatoes soften and cook. Add chopped zucchini and sausages and lower the heat. Both the zucchini and the sausages have already been cooked through so they really just need to be reheated.

Once the water starts to boil for the pasta add a small handful of salt to the water and bring to a rolling boil. Add the pasta and cook until al dente.

When the pasta is perfectly al dente, add a small cup of the pasta water to the sauce, turn up the heat and drain the pasta. Without shaking all of the water out of the colander pour the pasta into the pan and toss it with the sauce. This allows for the pasta to cook a little longer in the sauce and to absorb the flavor. Serve immediately.