Gnocchetti (Dumpling) with escarole and bacon
Gnocchetti (Dumpling) with escarole and bacon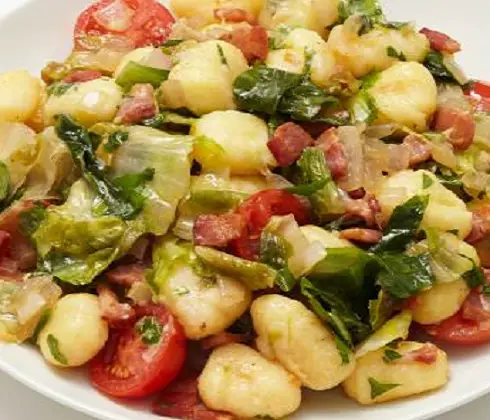 Ingredients for 4 people:
Gnocchi (or orecchiette) 400g
1 head of escarole
½ onion
1 clove of garlic
bacon, diced 100g
tomatoes 150g
dry white wine
grated Parmesan cheese (optional)
olive oil
salt.
PREPARATION
Boil the escaroles in boiling salted water, drain them and slice thinly. In a large saucepan, sauté the finely chopped onion, crushed garlic and the bacon cut into cubes with olive oil; sprinkle with a little white wine and let it consume high heat, then add the escarole and cook for about 5 minutes then add the chopped tomatoes and continue cooking until the sauce reaches the right consistency.
In plenty of boiling salted water and boil the gnocchi when are cooked, drain and pour directly into the pan with the sauce. Mix well and sprinkle, optionally, with the grated cheese.
Serve immediately.