Grilled Pound Cake with Balsamic Berries
Grilled Pound Cake with Balsamic Berries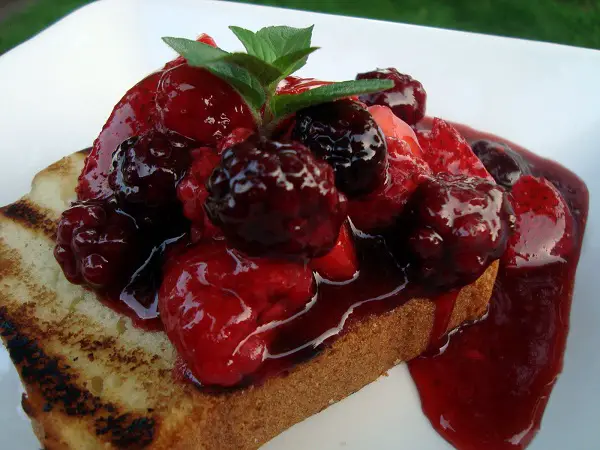 Ingredients:
1/3 cup granulated sugar

1 tablespoon corn starch

1/2 cup water

1 tablespoon balsamic vinegar

1 pint blackberries

1/2 pint raspberries

1/2 pound strawberries, hulled and sliced

6 slices pound cake see below for homemade

6 sprigs fresh mint (optional, for garnish)
Directions
Mix the sugar and corn starch in a medium saucepan.

Stir in the water then add the balsamic vinegar. Mix well.

Put over medium heat and add the blackberries. While continuing to stir, bring the mixture to a boil, then boil for one minute.

 Remove from heat and allow to cool slightly.

Carefully fold in the raspberries and strawberries and set aside.

Spray the grates of  grill with cooking spray and turn the grill onto medium-high heat.

Lay the slices of pound cake on the grill and cook for 3-4 minutes (or until grill marks appear); flip and do the same on the other side.

Spoon the berry mixture over each slice of pound cake, garnish with mint, and enjoy.
Pound Cake
Ingredients
    1 and ½ cups all-purpose flour

    2 teaspoons baking powder

    1 teaspoon salt

    3/4 cup butter at room temperature

    1 and ½ cups whole milk ricotta

    1 and ½ cups granulated sugar

    3 large eggs at room temperature

    1 teaspoon vanilla extract or lemon extract and zest from 1 lemon
Instructions
    Preheat oven to 350°F.

    Grease a 9-inch loaf pan with butter or solid vegetable shortening then sprinkle of granulated sugar or flour. Wilton cake release is great to prevent sticking too! (I use shortening and sugar. Sugar doesn't leave white patches like flour does.)

    In a bowl, combine flour, baking powder, and salt.

    In the bowl of an electric mixer, cream butter, ricotta, and sugar until smooth about 2 minutes.

    Add eggs, one at a time. The batter may look curdled at this point. It's okay just keep mixing. Stop the mixer and scrap the sides. Return the mixer to med-low.

    Add the flour mixture and either vanilla extract or lemon zest and extract, depending on which you prefer. Scrap down sides and allow to beat about 30 seconds.

    Pour batter into prepared loaf pan.

    Bake 45 to 50 minutes. Test cake by inserting a wooden pick into the center. If the pick is clean or has dry crumbs the cake is cooked perfectly. Dark pans cook faster than light pans as well as if you put the pan on a cookie sheet to bake. (I ALWAYS put cakes or pies on another pan to prevent spills from leaking in the oven.) Watch the time and cake carefully according to your oven and your pans.

    Allow cake to cool on wire rack 15 minutes before inverting onto serving tray.