Herbed Orzo, Chicken & Broccoli Salad
Herbed Orzo, Chicken & Broccoli Salad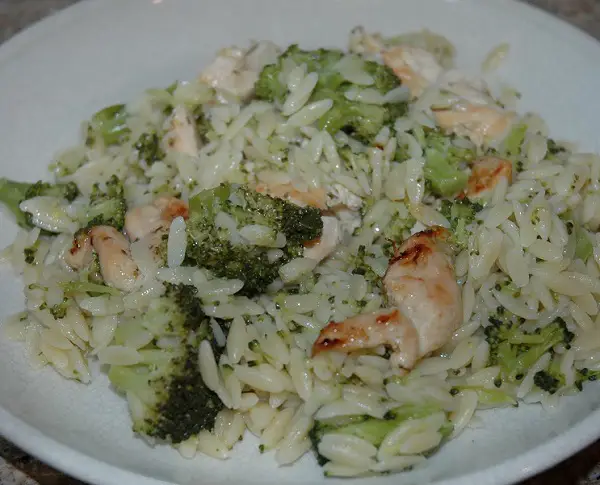 Directions
1 lb. boneless Chicken

    1/2 cup Extra Virgin Olive Oil

    2 TBSp fresh Dill

    1 tsp dried Oregano

    1 tsp dried Basil

    1 Lemon- Zest & Juice

    2 TBSp Red Wine Vinegar

    1 box Orzo, cooked to package instructions.

    1 cup Broccoli, steamed
Directions
Cook the Orzo. Steam the Broccoli at the same time.

In a small bowl, mix together 2 TBSp olive oil, 1 TBSp dill, the Oregano & the Bail.

Brush the boneless chicken with it; Coat both sides.

Heat about 2 TBsp Olive Oil in a saute pan over medium-high heat.

Cook the chicken, squeezing some lemon juice onto it while sauteing,  about 8 minutes on both sides, or until the meat is completely cooked. Dice into cubes.

In a large bowl, whisk together 4 TBSp olive oil, the Red Wine Vinegar, the rest of the lemon juice & the zest, & the rest of the dill.

Add the Pasta, the Broccoli & the diced Chicken.

Toss it all to combine & coat with the dressing.