Lentil Bolognese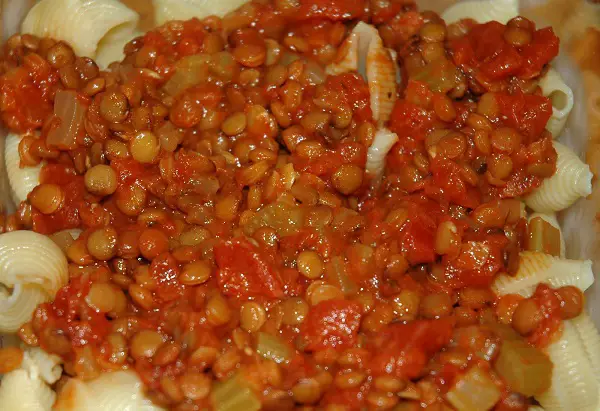 Ingredients
Yield: (6 cups).
    1 tsp olive oil

    1/2 c diced celery

    1/2 onion, diced

    4 cloves garlic, minced

    2 Tbsp white wine vinegar

    2 c low-sodium vegetable or chicken broth

    1 c dried lentils (any color – mine were brown)

    1 28oz. can crushed tomatoes with juice

    2 tsp dried oregano

    2 tsp dried parsley

    1 tsp dried basil

    salt & pepper, to taste
Directions
In a large stock pot, heat oil on medium-high.

Add celery & garlic. Cook, stirring often, about 15 minutes.

 Add vinegar and scrape any brown bits from the bottom of the pot. Stir in the broth, 1 c water, lentils, tomatoes, oregano, parsley & basil.

Reduce heat to medium & simmer, partially covered, for 45 minutes, stirring occasionally.