Linguine ai Carciofi e Pancetta
Linguine ai Carciofi e Pancetta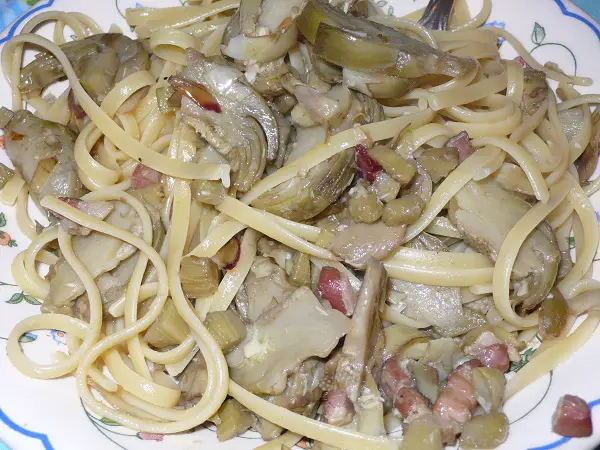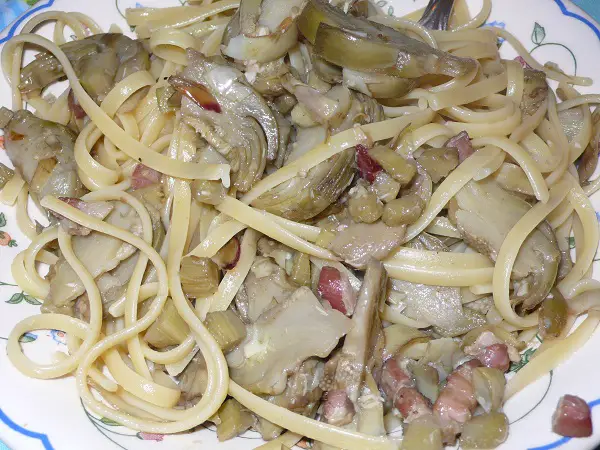 Artichokes are a sacred flower in Rome, this prehistoric looking flower is prepared in so many different ways in Rome, though the two most well know are the carciofi alla romana and alla giudea.

Ingredients
    3 medium sized artichokes, trimmed and cleaned

    ¼ lb of pancetta, cut into small cubes

    1 cup of dry white wine

    2 tbsp extra virgin olive oil

    2 whole cloves of garlic, peeled and left whole

    ½ lb of linguini

    1 whole lemon

    salt to taste
Directions
Prepare a bowl with cold water and lemon juice.

Clean the artichokes by eliminating their outer leaves; you can do this by bending them and snapping them off. Do this until you get to the leaves that are lighter in color.  Cut off the tip of the central cone, to eliminate the tougher green end of the leaves. Cut the heart in half and scoop out the inside chokes with a knife or a small spoon. Cut the heart of the artichoke into thin slices and immerse in the lemon water.

If your artichokes have stems, cut the stem off and peel it of its outer skin. Chop into small cubes to be used in the sauce as well, it would be shame to throw them away.

Chop pancetta into cubes.

Heat oil in a wide saucepan over medium-high heat and add the whole cloves of garlic. When garlic starts to sizzle add the pancetta and the slices of artichokes. Sauté artichokes over high heat for a few minutes and add cup of white wine. Lower heat to a medium flame and cover pan. Stirring occasionally. Sauté artichokes for at least 30 minutes, or until they are soft, if the artichokes start to dry out, add water to the pan.

In the meantime, fill a large pot with water for the pasta. Bring to a boil over high heat. Once the water starts to boil for the pasta add a small handful of salt to the water and bring to a rolling boil. Add the pasta and cook until al dente.

When the pasta is perfectly al dente, turn up the heat on the sauce and drain the pasta. Without shaking all of the water out of the colander pour the pasta into the pan and toss it with the sauce. This allows for the pasta to cook a little longer in the sauce and to absorb the flavor.