Macaroni with pilchards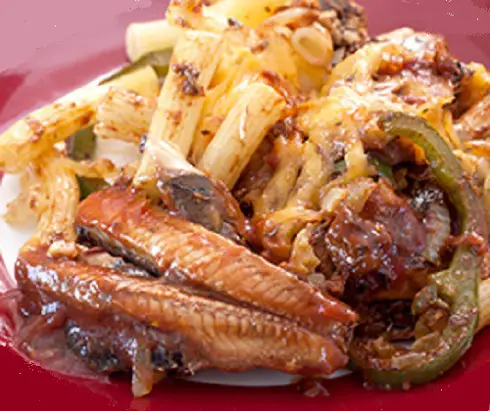 Ingredients
for 6 people:
Macaroni 400 gr

pilchards 400 gr

a tablespoon of raisins soaked and drained

1 tablespoon pine nuts

1 green pepper cut into pieces

1 clove garlic, minced

flour

olive oil (for frying)

2 tablespoons breadcrumbs

salt, pepper.
PREPARATION
Clean the pilchards, remove the heads and tails and remove the bones, then roll them in flour and fry in hot oil.

As soon as they are golden, drain and leave to dry on a paper towel.

Boil the pasta in plenty of boiling salted water, and in the meantime a large pan pour 1 dl oil; just be hot pour the bread crumbs, raisins, chopped garlic, green pepper and pine nuts, then add the pasta in the meantime you will have drained and finally pilchards.

Mix everything over high heat for 1 minute and serve.