Panzanella Salad with Cod & Shishitos
Panzanella Salad with Cod & Shishitos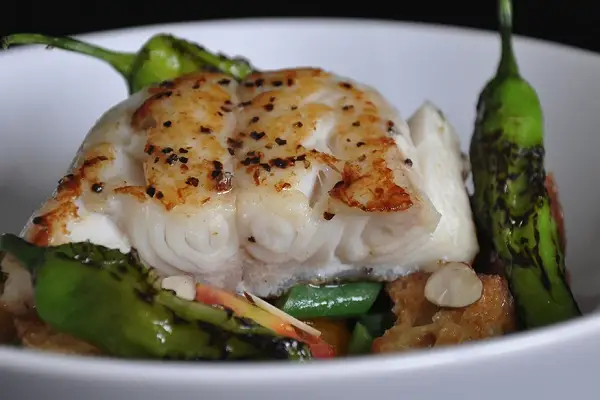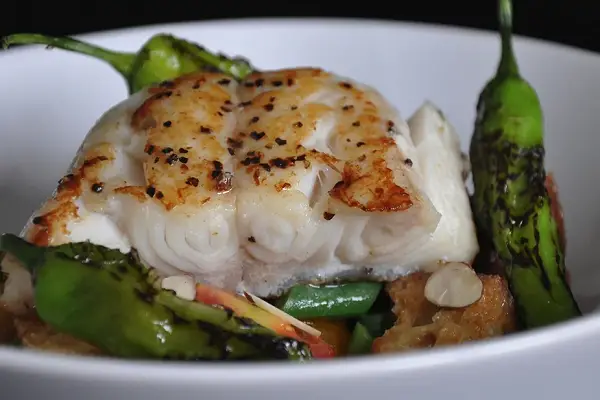 Ingredients
Serves: 4-6
For The Dressing
    1 ½ cup olive oil

    2/3 cup red wine vinegar

    ¼ cup Dijon mustard

    2 teaspoons salt and pepper
For The Salad
    1 12-inch baguette, cubed and toasted

    1 bunch green beans, blanched and cut into small bites

    1 quart of cherry tomatoes, different colors, cut in half

    ½ white onion, thinly sliced

    ½ cup shaved toasted almonds

    1 quart shishito peppers

    ½ cup parsley, finely chopped
For The cod
Instructions
The Dressing
Combine ingredients. (make in advance and keep in the fridge)
The Salad
Preheat your oven to 375 degrees

Using a bread knife cut the ends off of your bread and discard. Cut your bread in half (longways) and then begin to cube off your bread into pieces that are about a quarter of an inch thick.

Put all of your bread cubes into a medium sized mixing bowl, lightly coat them with olive oil, salt, and pepper and spread them out evenly on a baking sheet.

Begin toasting them in the oven for approximately 10 minutes or until golden brown and crispy. When they're firm and crunchy pull them out of the oven and allow to cool

Set a pot of salted water on your stove and start to bring it up to a boil. While you wait on your water, cut your green beans into small bite size pieces, cut half of your onion into thin slices, and cut your tomatoes in half.

After your water comes to a boil, toss in your green beans, and blanch for approximately a minute and a half. Strain your green beans and then cool them in an ice bath. When your beans cool, strain them and put them to the side.

You can put your tomatoes, onions, and green beans all in the same bowl with your toasted bread. Begin to lightly dress your salad.

You'll have to add your dressing in increments to let the bread soak up some of the dressing. Allow your salad to sit dressed so your bread begins to soften. You can dress your salad up to 15 minutes ahead of the time you plan to cook your fish.
The Cod
Take your cod and season it with salt and pepper.

In a very hot pan, set your fish in the center skin side down and let sit for 3-4 minutes or until the skin is golden and crispy.

Gently flip your fish and cook for another 3-4 minutes until your fish is firm to the touch.

After the fish is cooked to your liking, you can pull it from the pan and let it rest on a clean paper towel to shake off the excess oil.

While your fish is resting, take a couple of minutes to blister your shishitos over an open flame. This part is the most fun but can be intimidating.

If you prefer you can also blister your shishitos in a very hot pan.