Rigatoni with Sausage and Prosciutto in a Cream Sauce
Rigatoni with Sausage and Prosciutto in a Cream Sauce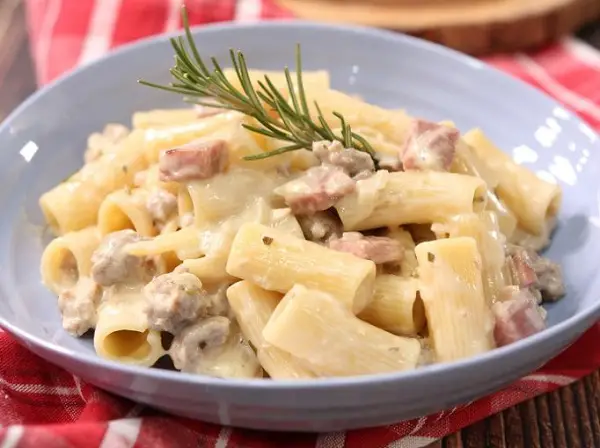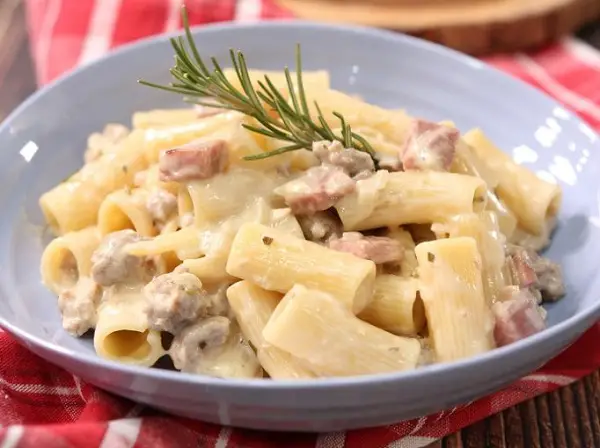 Ingredients
    1 lb. Rigatoni

    5 Sweet sausages casing removed and crumbled

    6 oz. Prosciutto cubed

    1/2 Sweet onion diced

    3 Garlic cloves mined

    1 cup Heavy cream

    1/2 cup Chardonnay Wine or another dry white wine

    1 tsp. Hot pepper flakes

    1 Rosemary sprig leaves chopped

    1/4 cup Pecorino cheese freshly grated

    Extra virgin olive oil
Instructions
    Bring a pot of salted water to a boil to be used to cook the pasta later.

    Begin by adding a drizzle of olive oil to a deep pan or a Dutch oven. Heat the olive oil over medium/high heat and then add in cubed prosciutto. Sauté over a medium flame for two minutes and then add in the crumbled sausage, hot pepper flakes, and chopped rosemary. Sauté until the sausage is almost cooked through or a light brown color.

    Add in the garlic and onion and sauté for about two to three minutes.

    Reduce the heat and pour in the white wine. Stir together and allow the alcohol to evaporate over low heat.

    Meanwhile, add the rigatoni to the boiling pot of water and cook for two minutes less than per the package instructions (al dente).

    Pour the heavy cream into the sausage and prosciutto pan three minutes before the pasta is ready. Mix all together and let simmer until the pasta is ready.

    Once the pasta is al dente, use a spider strainer to scoop directly into the cream sauce pan. If you don't have a spider strainer, strain the pasta, but make sure to reserve a cup of the pasta water first. Mix the pasta together with the cream sauce and cook for about a minute. If the sauce has been absorbed, add a scoop or two of the pasta water and continue to cook over medium/low heat to thicken up the sauce, for about two more minutes.

    Sprinkle in the freshly grated pecorino cheese and mix all together to finish cooking the pasta and to get a thick, creamy sauce.

    Serve the rigatoni with sausage and prosciutto in a cream sauce with an extra sprinkle of pecorino cheese on top and enjoy. Salute and cin cin!