Risotto with Calamari and Zucchini Blossoms
Risotto with Calamari and Zucchini Blossoms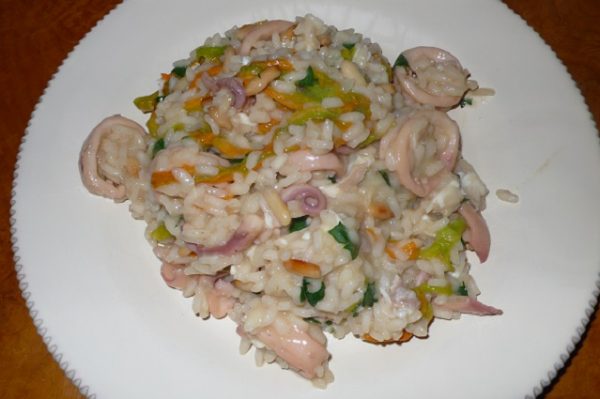 Ingredients
    1 cup of Carnaroli or Arborio rice (Italians measure rice by demitasse cups, 1 cup for each person and one for the pot)

    ½ an onion, chopped finely

    1 lb of fresh calamari, cleaned

    8-10 zucchini flowers, stems removed and rinsed well

    1/2 cup pine nuts

    5 cups fish or vegetable stock

    1 cup of dry white wine

    3 tbsp butter, divided

    a few sprigs of flat-leaf parsley, minced

    salt to taste
Directions
Rinse the calamari and cut into strips, separating the tentacles from the body.

Heat 1 tbsp of the butter in a medium pot over medium heat and add the calamari, stir to saute and let the calamari simmer for about 20 minutes or until they have released their juices and have become a little bit more tender, they will continue cooking in the rice.

Chop the onion into fine pieces and bring the broth to a simmer.

 Heat a large stovetop casserole pan over medium-high heat and melt butter at the bottom of the pan. When the butter is melted add the onion and sauté until it is translucent.

Add the rice and coat it in the butter, toasting it a bit. When the rice becomes opaque, after about 1 minute, add the wine to the pan, enough to cover the rice, stirring frequently.

When the rice has absorbed the wine, add the calamari with the liquid that it has released and continue stirring. Continue adding the broth as the rice absorbs it, you want it to almost dry out before adding the broth each time.

Toast the pine nuts in a skillet until browned, careful not to burn them.

Right before the rice is al dente add the zucchini flowers and stir into the rice for them to wilt.

When the rice is finished it should be al dente and all of the liquid should be absorbed. Remove from heat and toss in the pine nuts, a tab of butter and the parsley.

Serve immediately.