Salsicce e Friarielli Sausages and rapinis
Salsicce e Friarielli Sausages and rapinis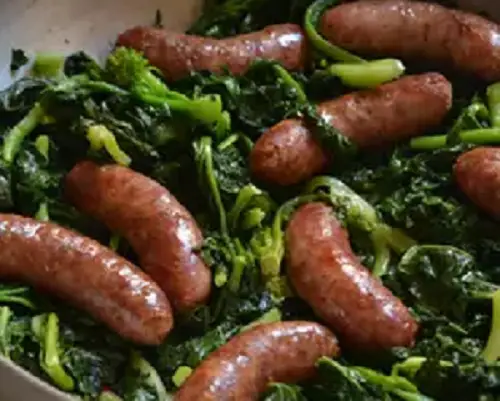 Ingredients
2 bunches of broccoli rabe (or friarielli if you can get your hands on them!)

4 Italian sausages (hot or mild, depending on your tastes)

2 garlic cloves, peeled and left whole

3 tbsp extra virgin olive oil

1 tsp red pepper flakes

salt to taste

water for pre-cooking broccoli rabe
Directions
Fill a large pot with water and bring to a boil over high heat. Clean the broccoli rabe, removing the thick stems but preserving the leaves and the broccoli florets. When water starts to boil transfer the broccoli rabe to the pot and let boil for about 8 minutes. Strain

In the meantime heat a large frying pan over medium-high heat with olive oil and garlic, when the garlic starts to sizzle place your sausages in the pan. Be sure to rinse your sausages before placing them in the pan, you never know where they have been. Brown the sausages on all sides. Once the sausages have browned poke them a few times with a fork to let the juices out.

When the broccoli have finished boiling strain them in a colander and transfer them to the pan with the sausages. Simmer over medium heat for at least 20 minutes or until the sausages are cooked through.

Serve with peperoncino oil and crusty bread.