Zucchini and Ricotta Pie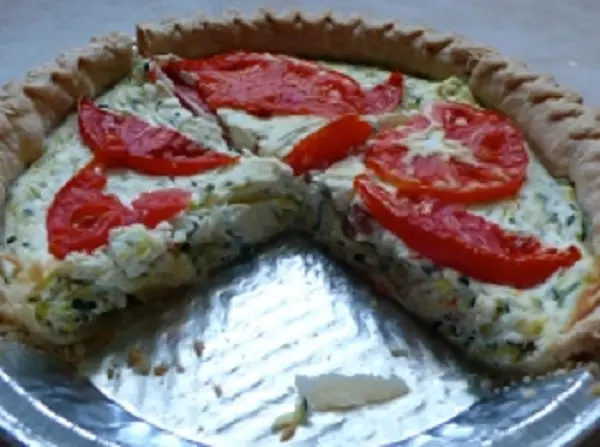 Ingredients
1 lb zucchini

15 oz. ricotta

4 eggs

1/2 cup of heavy cream

1/2 cup of sliced shallots

1 tbsp extra-virgin olive oil

1 large tomato, sliced

1/2 tsp grated nutmeg

pinch of marjoram

a few sprigs of basil, chopped

salt and pepper to taste
Directions
Grate the zucchini using a food processor or a hand grater.

Place in a large colander, salt generously, and let drain for 1 hour, pressing down on it occasionally to squeeze out liquid. After an hour, take up handfuls and squeeze out moisture (or wrap in a kitchen towel and twist the towel to squeeze out the moisture).

Place in a bowl.

Heat the oil over medium heat in a large, heavy nonstick skillet over medium heat, and add the shallots.

Cook, stirring, until tender, about five minutes.

Transfer to the bowl with the zucchini.

Stir in the herbs, ricotta and eggs.

Preheat the oven to 350°.

If you are using frozen pie crusts, allow them to completely thaw before filling with the ricotta-zucchini mix.

Slice the tomatoes and place them on top of the filling in the pie.

Bake for about 45 minutes and serve either warm or at room temperature.