Scallion and Asparagus Salad
Scallion and Asparagus Salad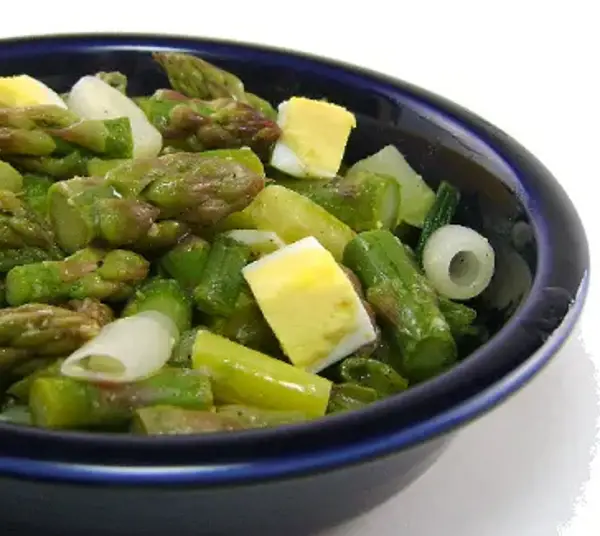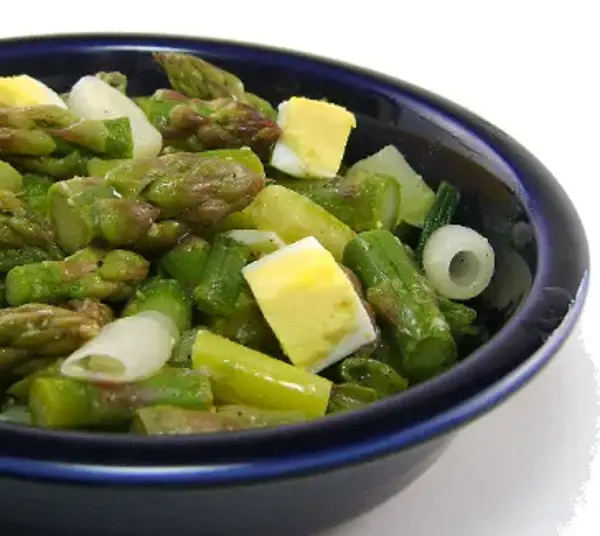 Ingredients:
Yield: 6 servings.
1-1/2 pounds fresh asparagus

3/4 pound scallions

3-1/2 tablespoons extra-virgin olive oil

1-1/2 tablespoons red wine vinegar

1 teaspoon salt, or more if needed

Freshly ground pepper to taste

3 hard-cooked eggs, peeled
Directions:
1) Snap off hard stalks at bottom of asparagus spears. To assure even cooking, use a vegetable peeler to shave off skin from bottom 3 inches or so of each asparagus stalk.
2) Trim away root end of each scallion as well as wilted ends of green leaves. Peel off loose layers of bulb, so scallions are all tight, trim, and about 6 inches long.
3) Bring 1 quart of water to a boil in a deep wide skillet. Add asparagus and scallions. Adjust heat to maintain a bubbling boil, and poach asparagus and scallions, uncovered, for about 6 minutes, or until they are tender but not falling apart, and cooked through but not mushy. Remove cooked vegetables to a colander and run under cold water to stop cooking. Drain, spread on paper toweling and pat dry. Sprinkle with 1/2 teaspoon salt.
4) Cut the asparagus and scallions into 1-inch lengths and gently put them into a mixing bowl. Drizzle with oil and vinegar. Season with 1/2 teaspoon salt and 1/4 teaspoon pepper. Toss very gently.
5) Quarter cooked eggs into wedges, and slice each wedge into two or three pieces; salt lightly and fold into vegetables. Adjust seasoning to taste. Chill briefly. Arrange on a serving platter or individual salad plates.