Scallop & Asparagus Orzo Risotto
Scallop & Asparagus Orzo Risotto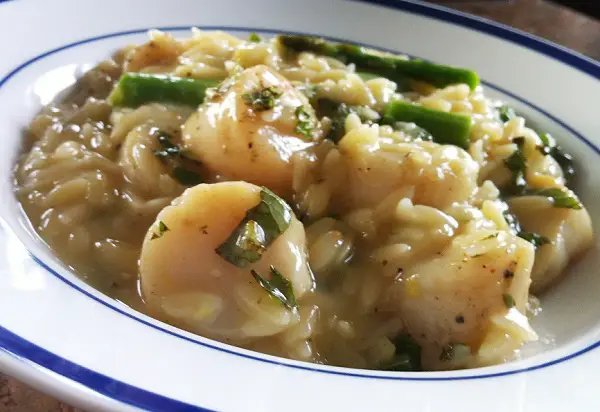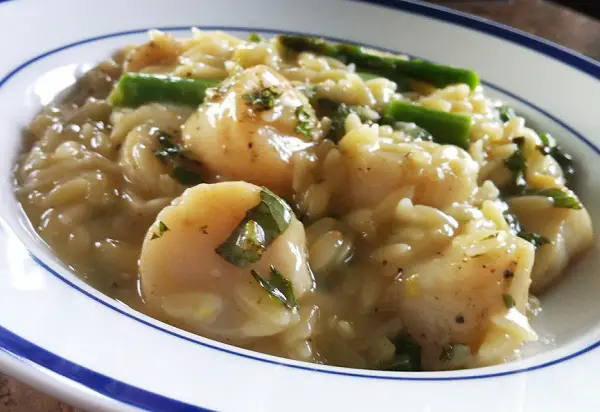 Ingredients:
Serves 4
1lb/450g large scallops

1 tablespoon cooking oil

1/2 teaspoon salt

1/2 teaspoon ground black pepper

1/4 teaspoon sugar

1 tsp Satay Spice Blend from Epices de Cru

1 cup orzo pasta

1 garlic clove, pressed or chopped finely

2 cups chicken broth

1 cup dry white wine

1 tbsp lemon juice

1 tbsp lemon zest

1 tbsp thinly sliced fresh mint ribbons

1 cup lightly steamed asparagus
Directions:
Combine salt, pepper, spices and sugar in a Ziploc bag and toss in scallops to coat.

Heat oil in a large skillet over medium high heat.

Sear the scallops in a single layer over bottom of skillet for 1-2 minutes, until one side is browned. Flip scallops and cook for another 2 minutes or until the scallops are cooked through.

Remove scallops from skillet and set aside.

In same skillet, combine orzo, garlic, chicken broth and wine. Stir well and bring to a boil.

Reduce heat to medium low and cook 10-12 minutes, stirring often, until orzo is cooked through and the sauce has become creamy – I actually had to add 5 minutes to the original directions.

Remove skillet from heat and stir in scallops, asparagus and lemon juice. Cover and let stand 3-5 minutes or until heated through.

Sprinkle with lemon zest and freshly chopped herbs before serving.