Skillet Polenta with Tomatoes and Gorgonzola
Skillet Polenta with Tomatoes and Gorgonzola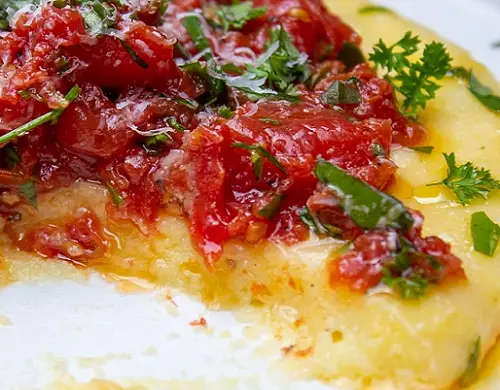 Ingredients:
Makes 4 servings
2 tablespoons extra-virgin olive oil

4 cups water

1 and 1/3 cups yellow cornmeal

1 and 1/4 teaspoons salt

1/2 cup slivered fresh basil leaves

2 cups halved cherry tomatoes

2 garlic cloves, minced

1 cup crumbled Gorgonzola cheese (about 4 ounces)

1 cup shredded mozzarella cheese (about 4 ounces)
Directions:
Preheat oven to 450°F.

Brush 12-inch diameter ovenproof skillet with 1 tablespoon olive oil.

Combine 4 cups water, yellow cornmeal, and salt in heavy large saucepan.

Bring to boil over medium-high heat, whisking constantly.

Reduce heat to medium-low and cook until polenta is very thick and pulls away from sides of pan, whisking constantly, about 3 minutes.

Whisk in remaining 1 tablespoon olive oil and 1/4 cup basil.

Transfer polenta to prepared skillet; flatten polenta to even thickness.

Sprinkle polenta with tomatoes and garlic.

Sprinkle evenly with Gorgonzola, mozzarella, and remaining 1/4 cup basil.

Bake until cheese is melted and bubbling, about 16 minutes.

Cut polenta into wedges and serve from skillet.