Smoked Scamorza Pizza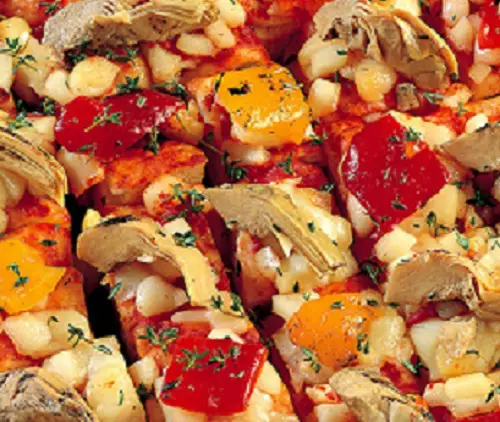 Ingredents
4 cloves of garlic, finely chopped and roasted

8oz of smoked scamorza chopped into pieces

1 jar of marinated artichoke hearts, drained

1 small can of sliced black olives

1 bunch of long green onions, chopped

1 15oz can of tomato puree

1 Tbls of dried oregano

4 sprigs of fresh thyme

1/4 cup of extra virgin olive oil

1/2 tsp of salt

1/2 tsp of freshly ground black pepper
PREPARATION
Brush a cookie sheet or pizza pan with some of the oil

Knead the cooled roasted garlic into the dough.

Shape the dough however you want and cover and set aside for 2 hours.

Pre-heat oven to 425 degrees

In a small saucepan bring the tomato puree and oregano to a boil

Brush the remaining olive oil on top of the dough.

Cool the sauce down and spoon all over the dough.

Sprinkle the cheese, onions, artichoke hearts, olives, peppers and thyme on top.

Season with salt and pepper.

Bake for 30 minutes.