Spongata di Natale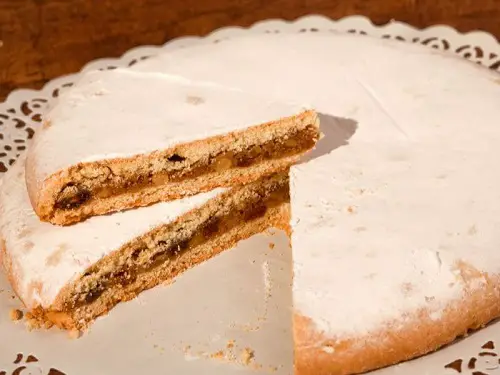 This Italian Christmas cake recipe is a speciality of the Emilia Romagna region, given as gifts to friends and family. Packed with nuts, honey and dried fruit – including Italian citron – the filling is rich, sticky and sweet and comes wrapped in a crisp, sugared pastry coating.

Ingredients
for 6-8 people:
For the dough
Flour 300g

sugar 80g

butter 100g

dry white wine

icing sugar

salt.
For the filling
Almonds 75g

sugar 40g

honey 200 gr

hazelnuts 75g

walnuts 150 gr

pine nuts 30 gr

biscuits 100 g

candied citron and orange, cut into cubes 100 gr

sultanas, already softened and squeezed 50 g

cinnamon powder 5 gr

½ liter of white wine

½ grated nutmeg.
 PREPARATION
Two days before preparation of spongata prepare the filling: place the almonds for a few minutes in boiling water then drain them and remove the skin. Let dry and pound them in a mortar with a little sugar.

In a saucepan, pour the honey, white wine and boil gently, over low heat for a few minutes, then add the almonds, hazelnuts, walnuts and pine nuts coarsely chopped, crushed biscuits, candied fruit, cinnamon nutmeg and then, using a wooden spoon, stir to mix well.

Turn off the heat and let stand the stuffing.

Prepare the pastry: mix the flour with the sugar then add the melted butter, wine and a pinch of salt; knead well and cover the prepared dough with a plastic bowl, then let stand for about 1 hour.

After this time, take the dough and with a rolling pin create a layer of about 3 mm thick; with half of the sheet coat the bottom of a baking pan greased with butter, place over the filling, cover with the remaining dough and weld edges.

Prick the surface of spongata with the tines of a fork and place in preheated oven at 180 ° C for about 30 minutes.

After this time, remove the spongata from oven, let cool, sprinkle with icing sugar and serve.

Preparation time: 3 days and 2 hours, 0 minutes, 0 seconds